Jesse King is one of those rare leather goods makers who has not only made a living for himself, but also continues to gain success despite some huge setbacks. I sat down to interview him and learn more about his craft and his store.
Origins of a Maker
Jesse first started making leather goods when he was just a teenager. He ventured into Portland thrift shops in search of old belts and other leather goods to use as material. "I remember the first thing I ever made was a snap button cuff. I added eyelets and crisscrossed woven string through them to create an "x" pattern," he said. The local leather specialty stores quickly became a favorite haunt of his. He learned a lot by exchanging tips and tricks with the staff members during his visits, making sure to utilize online videos and tutorials, as well. Over time, the quality and craftsmanship of his work improved. Jesse recounted, "I started to round the edges on my leather. I used new dyes, new hardware, new ideas. Then, I began tooling my work."
At just nineteen, Jesse started a slew of businesses for himself, doing leatherwork, graphic design, and t-shirts. Out of all of his endeavors, though, leatherworking kept drawing him in, and it became the mainstay of his business. He found that not only did he enjoy the craft, but he also welcomed the challenge of running his own online store.
Eventually, he opened an Etsy store, Vilon (pronounced Villian) Leather and, in his second year, he nearly tripled his business. Three months after he opened his shop, he quit his job as a security officer and was able to sustain himself, working full-time on his own.
Setbacks
In 2014, Jesse experienced two major setbacks in a row. He and his fiancé were in a car accident, and if that wasn't enough, they had an apartment fire and lost nearly everything. "It wasn't a fun time. If I could take 2014 off the history books, I would. There were a lot of lessons that I learned," Jesse said. The accident caused a lot of body pain, making it hard to do the very physical craft of leather working. Running a business, on top of that, was even more difficult.
To make matters even worse, because of the fire, he had to move in with family, and they had little space for him to work. "There was no space to do my craft, so everything just got put away for a while." Though it was a dark time for him, Jesse didn't give up his dream of professional leatherworking.
Starting Over
When Jesse started to get his business back on its feet, there was one problem – his Etsy account, containing thousands of sales and positive reviews, had been deactivated; despite trying everything to reactivate it, Jesse couldn't get the store back. He had to start over.
Starting over has had its benefits, though, because it allowed him to take a fresh look at everything he was doing. He has since widened the variety of his offerings and improved his online store. He has become better at photographing his products, and most of all, he's improved the quality of his work.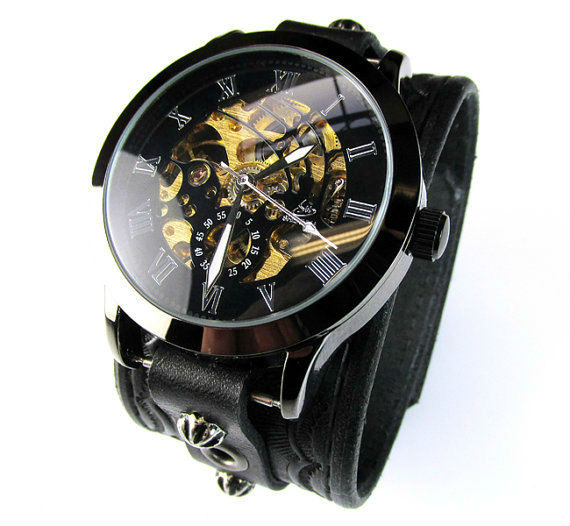 Come up with a Product Idea by Scratching Your Own Itch
One thing he didn't have to do over was his product idea; it was already working for him. Jesse had been making wristwatch bands from the very beginning, because he was unable to find any existing bands he liked. Fortunately for Jesse, many other people were also looking for the same type of band he had wanted! Many people think it's hard to come up with a product, but you don't have to look farther than yourself to come up with a great idea. Many successful business owners start by making the product they want to see in the world, and they often find, like Jesse did, that others want the same thing.
Size Matters
For Jesse, the important thing for him in leatherworking is fitting your product to your customers. "It is really fun to make my own designs. I know when it comes to stuff like this, like wrist sizes, especially ordering on Etsy, it usually comes too big. So, for me, it was important to get the wrist size right. So every time someone orders, say a size 7, I make sure to have the wrist adjustable from at least 6.5 to 7.5. I know it can be really frustrating to order something handmade, and it doesn't fit."
The Hardest Thing
With a fresh start, Jesse is looking to tackle the biggest challenge for him, which is marketing. "I'm 25 years old, but sometimes, I feel like I'm 70 when it comes to things online. I never learned to really use social media to my advantage. I'm much more of an in-person people person, and I think most people are the opposite today."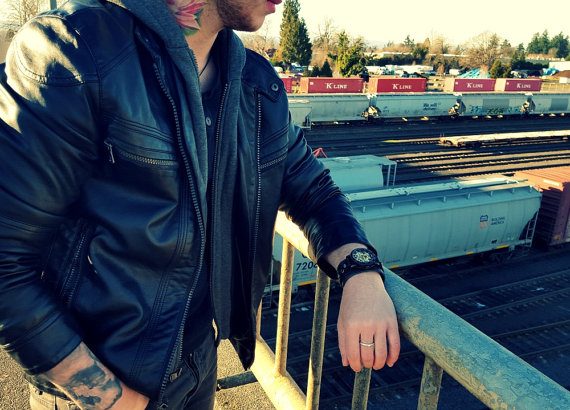 Balancing the Business of Leatherworking with the Craft
Although it can sometimes be stressful, Jesse doesn't mind running his own business. He's always liked working with his hands and making things helps him relax. In the past, he's restored wooden desks and even built a terrarium for pets. "I've always been the person to try to do it myself or do it my own way and see if I can figure it out for myself," said Jesse.
Jesse starts the day by tallying open orders and sorting out what to make for the day. He notes the different sizes, styles, and color variations. "I then throw some music on and get to work," he says. He can make about 3-4 items a day, depending on the process.
One thing he has always had to deal with is noise from leatherworking hammers and other equipment, which can be very confusing to neighbors, especially in an apartment building. "I always do my work mid-day, but I've had a few curious neighbors come up to me and ask me what I was doing. One lady thought I had been fixing a toaster. I don't know how she thought I was fixing a toaster with all that noise."
In his old place, he had an entire room devoted solely to business, but now, it occupies a part of his living space, tools and hardware safely tucked away between sales. After working on the products, Jesse ends the day packing orders, making sure the items are correct, and responding to customer service inquiries.
As with many small businesses, there can be periods of feast and famine. Jesse was once up for 36 hours straight, crafting leather goods during the holiday rush and in preparation for a craft fair. He completed over 70 orders that month. When he started his new store, business was slow, but has gradually started to pick up.
Advice for other leatherworkers
I asked Jesse for what advice he would give to other leatherworkers, and he encouraged other leatherworkers to "make your product unique. It's not about copying something you see out there, but making it your own thing. It's about finding a niche. If you find something that you're naturally good at, you'll more easily be able to improve. It's about improving yourself and enjoying what you do."
You can find Jesse at Vilon Leather on Etsy, where he makes watch cuffs, bracelets, and other great products.