Description
Box Dark Brown 3oz Calf Skin Leather Hide
Three hide cut choices- perfect any size project or for trying out new material
Fine grained and velvety smooth, calfskin is soft, delicate and refined. Calf, as the name implies, usually comes from younger animals and has a smaller grain pattern that is much more blemish free than regular leather.
Our calf leather comes from one of the best tanneries in France and is owned by a well known luxury brand. For over 150 years, this tannery in the south of France has had a history of being worker owned and run. As a result, this tannery developed a reputation for uncompromising dedication to high quality.
Over the years, the tannery has only updated their techniques to eliminate carcinogenic materials, making these these hides both high grade and more eco-friendly. The tannery's process is very well maintained and every hide can be traced back to the farmer and the cow that produced them.
All of our calf leather is full grain without any buffing, splitting or correcting. This means that only the clearest skins make the grade and all of the details and grain are the natural features of the hide.
This type of calf is our boxed calf, meaning it has a smooth surface. This is achieved by hand finishing and hand glazing each hide to a smooth sheen without any buffing or correction. This same leather is used for luxury handbags, shoes, and accessories.
Hide Cuts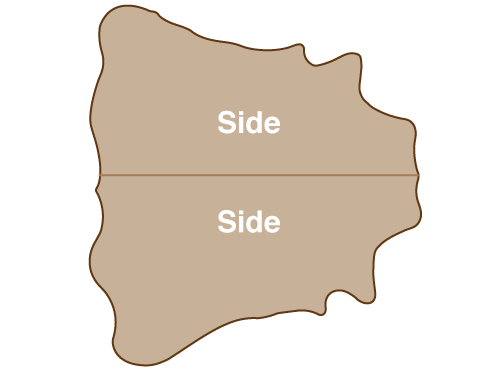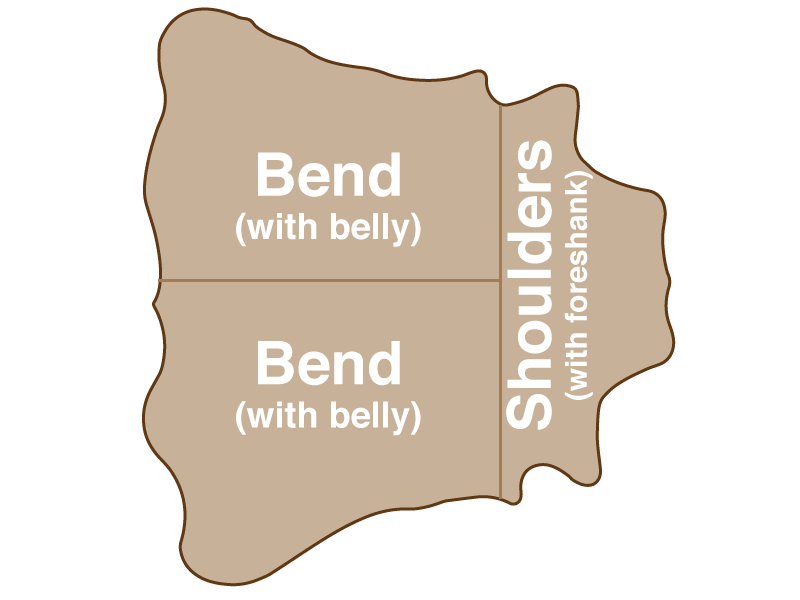 We offer three types of hide sections to match your project needs.
Side
One side of a hide. This is half of a whole hide split at the top (the back). It runs from the neck to the rear and is composed of a single shoulder, a bend and belly. 10-13 square feet
Single Bend plus
We offer calf bends which includes the what is traditionally a single bend but also includes the belly underneath the bend. 7-9 square feet.
Double Shoulders
Our offer of calf shoulders includes the what is traditionally a single shoulder but also the foreshank which is usually part of the belly. 6-8 square feet.
Quality
These hides are sourced from a very small selection of French cattle. The tannery has such a strong relationship with their ranchers that they can trace every hide back to the exact farm and cattle that it came from. Only the hides with the best surface quality are selected. They are produced sustainably and will be available in limited quantities. These three factors mean that the cost per square foot is higher than commodity leathers.
Service
We don't add any handling fees to our leather price and we offer free shipping to US destinations.
Satisfaction
As with all of our products, we offer a 30 day money-back guarantee if you are not satisfied with your purchase.