Description
Light Green Bonded Polyester Thread for Hand-Sewing and Machine-Sewing Leather – Size #1
100 Meter Spool
Additional information
| | |
| --- | --- |
| Weight | 2.4000000021164 oz |
| Dimensions | 3 × 2 × 2 in |
Supersew MBT is a new in-bonded polyester sewing thread for leather craftspeople who want the benefits of an affordable synthetic thread without compromising on quality or choice range. Produced by 100-year-old company, Nagai Yoriito, Supersew MBT combines the features of their other products into a multi-application sewing thread with a wide range of colors and sizes.
This bonded polyester sewing thread for leather features:
Compatibility with hand-sewing and machine sewing.
In-bonded construction to help reduce friction and fraying when machine sewing and
also minimizes split ends when cutting.
No external coating, unlike other bonded thread, so no messy residue or clogging of machinery.
Slightly stiffer construction helps keep stitches firm and prevents tangles in hand and machine sewing.
Professionally wound spools that are firm and consistent.
High-quality construction; threads made in Japan.
A wide range of 70 colors and 4 sizes.
Bright color finish that makes your stitches look brilliant.
Excellent UV resistance as well as resistance to mildew, acids and bleaches.
Maintains UV resistance over prolonged exposures; great for outdoor and frequent use items.
We're offering this new polyester leather sewing thread in introductory 100-meter spools. This is 66% more thread than other similar trial spools.
The Japanese company, Nagai Yoriito, have spent over 100 years developing their sewing machine threads to be used for applications in leather goods, sporting goods, industrial equipment and apparel. Their threads feature long lasting colors, composition and strength. They can be used in products as delicate as garments or as rugged enough for a Mars explorer probe.
Use Supersew MBT thread for wallets, holsters, belts, saddlery, handbags or nearly any other leather good.
Thread specifications
Twist: Z-twist thread
Elongation: ~25%
Size | DTEX | TEX | |Tensile Strength | Average diameter
Size #20 | 775 DTEX | 77.5 TEX | 48N | 0.3mm
Size #8 | 1000 DTEX | 100 TEX | 63N | 0.45mm
Size #5 | 1680 DTEX | 168 TEX | 102N | | 0.6mm
Size #1 | 2530 DTEX | 253 TEX | 149N | | 0.9mm
Note: most US polyester thread sizes go by TEX. Example: #69 Nylon is equal to 70 TEX. Denier = TEX x 9. Thread size is not related to TEX.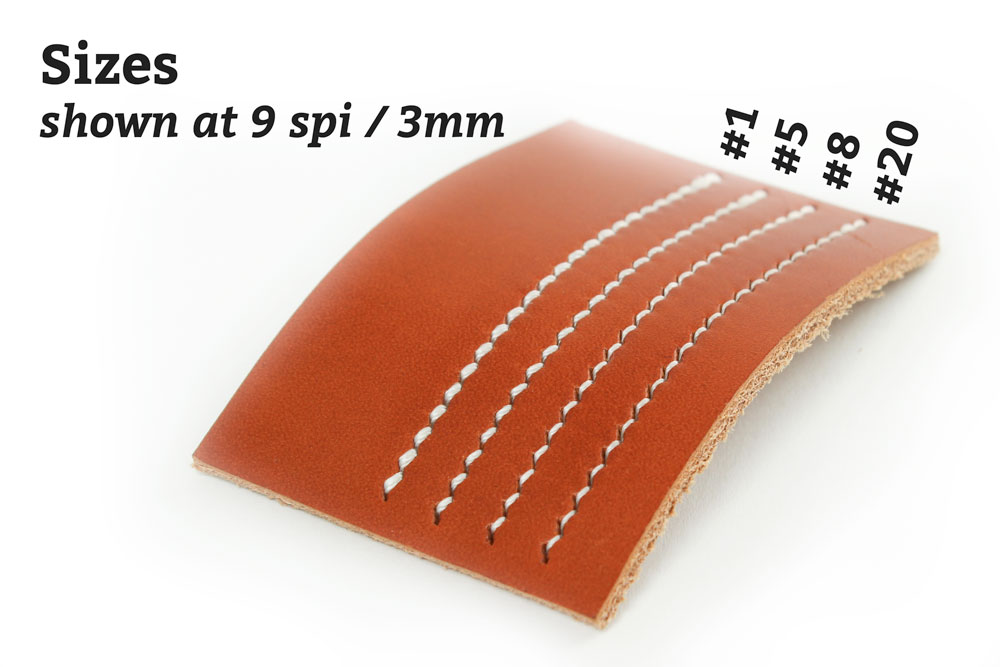 Colors