10pm Saturday night. I try to publish a post every Friday morning for the Fine Leatherworking blog. On most Thursday nights I am doing final edits and then queuing the post for our newsletter and our blog. Two days later, I have long since blown that deadline. I will eventually end up posting a week later but the results will be worth it. In my previous post, I wrote about unsticking yourself on project, for me that project is making shoes. What I advise on our blog is born out of what I do for myself and to get unstuck with my own situation that meant making a pair of sandals. Making a pair of sandals was meant to be a learning project so that I could work up to shoes and definitely learned a lot in making just one pair. Like many of my readers, making leatherworking can be a deeply engrossing endeavor and crafting sandals had been no exception. In today's post, I'm going to show you how I built these sandals but first here's the result.
Hand-sewn Sandals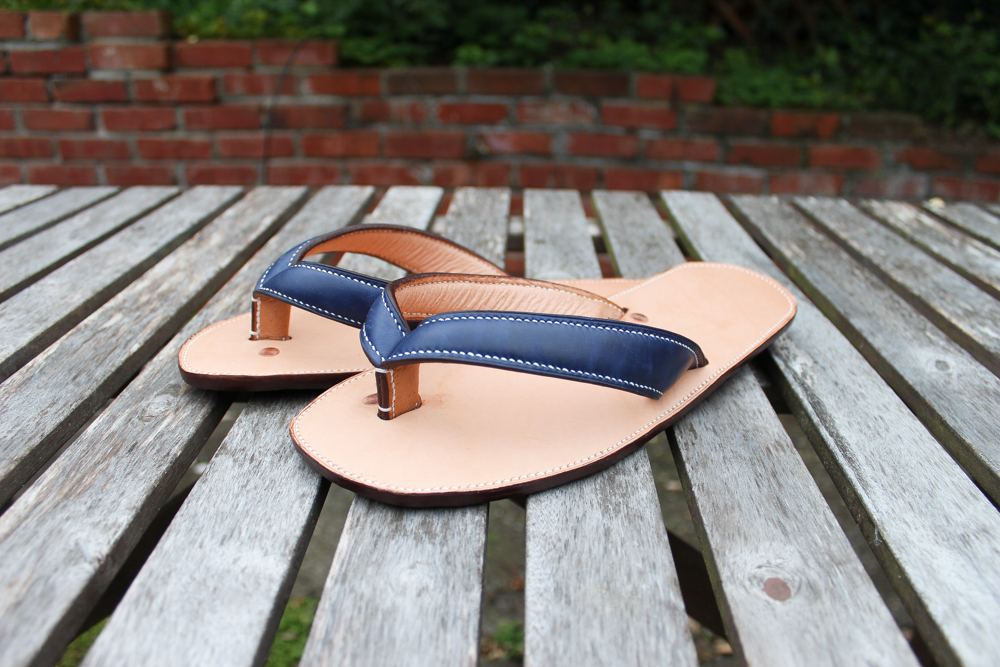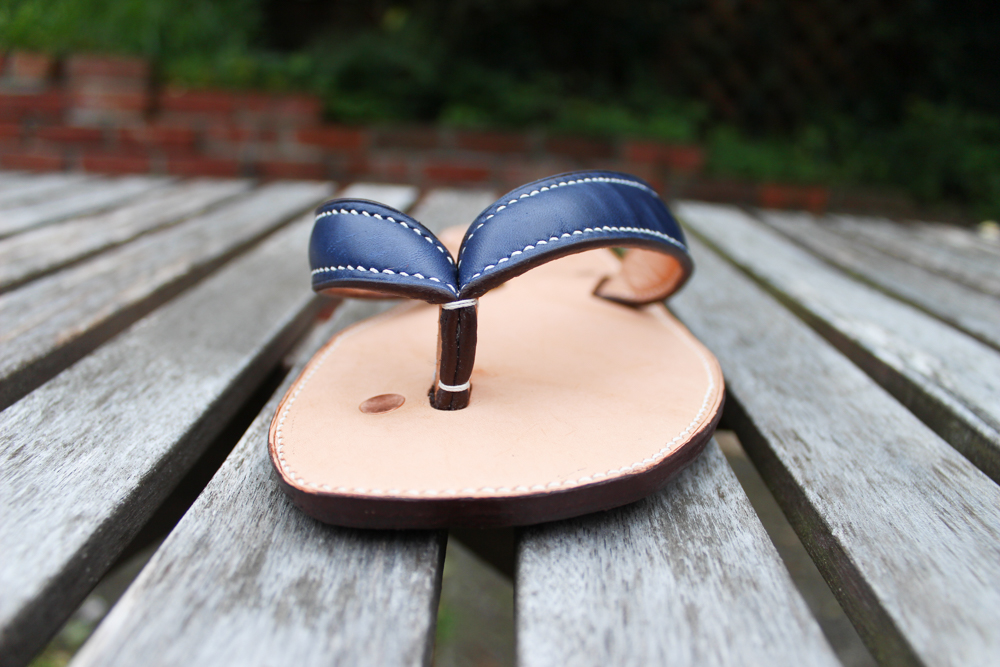 These are hand-sewn flip flops built with veg tan insoles and strap backs. Anywhere leather touches skin usually calls for vegetable tan leather because it is stiffer and better withstands the oils from your feet. Chrome tanned leathers, which are usually more flexible and have more interesting finishes on top, are common for shoe 'uppers' or the outside of a shoe. In this case the strap tops are blue chrome tanned leather. I also made the lower soles out of some extra chrome tan leather I had lying around.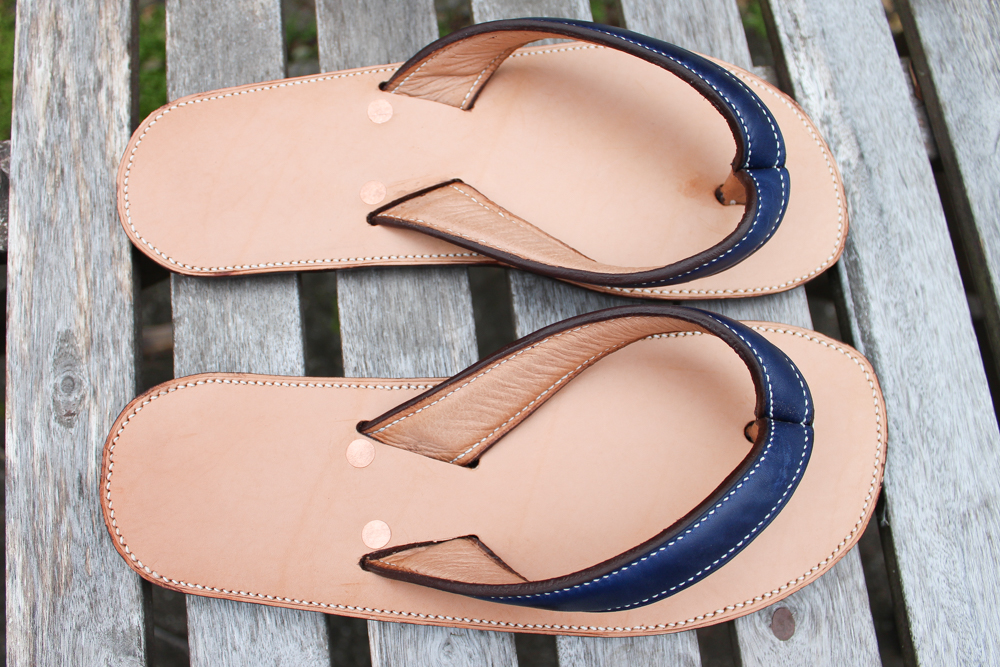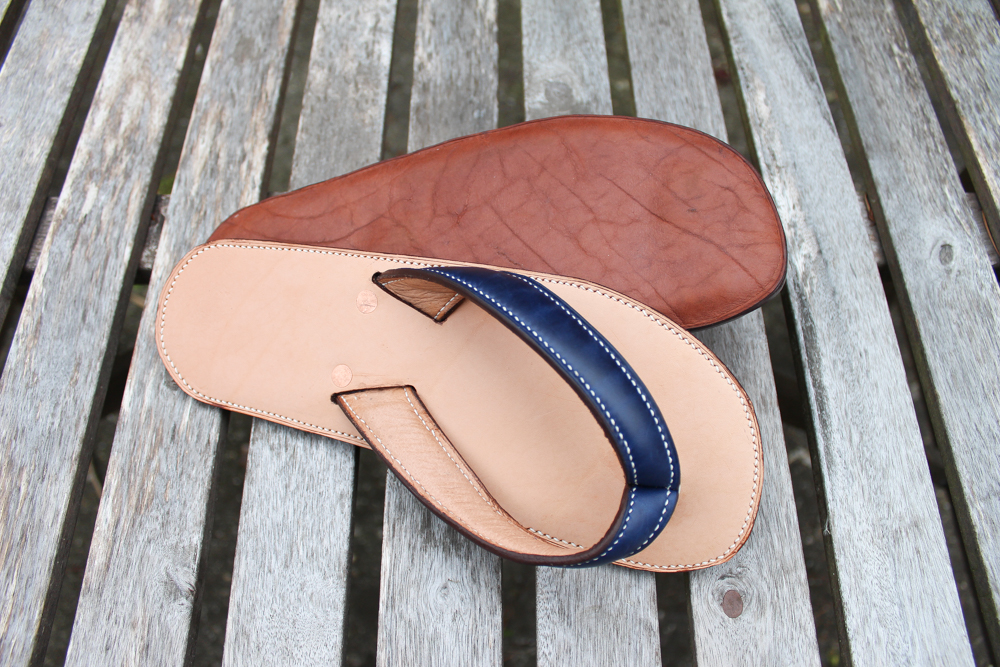 Ideas and decision-making
Inside the sandal is a foam mid-sole which you'll see later. Glue and flattop copper rivets secure the straps. Hand sewing these sandals allowed me to do a hidden stitch that is usually reserved for bespoke shoes. We'll look at the details of this stitch later on.
I decided to first make a practice pair of sandals. This meant that I didn't need to be precious about how to design and construct the shoe. I sometimes feel stifled because I find it challenging to select which design or construction method to use. By purposefully completing a few practice pairs of sandals, I can try several methods then see what works.
Since I have a background in leather goods making, I crafted these first sandals like a luxury handbag. I reinforced the stress points with rivets and used two layers of leather so that there was a face side (the top of a hide) on all sides of the sandal. I also finished the edges of the sandal with the painting and heat creasing process usually done for purses. Mid-soles are often skipped in flip-flops, but I wanted the extra cushioning so I added that to my build.
However, there were a few things that I purposely left out of my process. Most of the leather was used at its original thickness, which minimized the amount of skiving required. I also didn't use a shoe last. Many sandals are made without lasts and I wanted to see if I could do without one. I was making this pair for me and I could size the straps to my own feet. Lastly, I left off the heel. I have a pair of rubber heels ready to go, but wanted to see how these sandals turned out before applying them.
The Build
I first cut the insoles, since they are the final shape of the sandal. As I mentioned earlier, I created extra padding by cutting my mid-sole from foam padding typically found in shoes. In order to make sure that the foam didn't show, I cut the mid-sole inset from the insole and later glued the outers over them.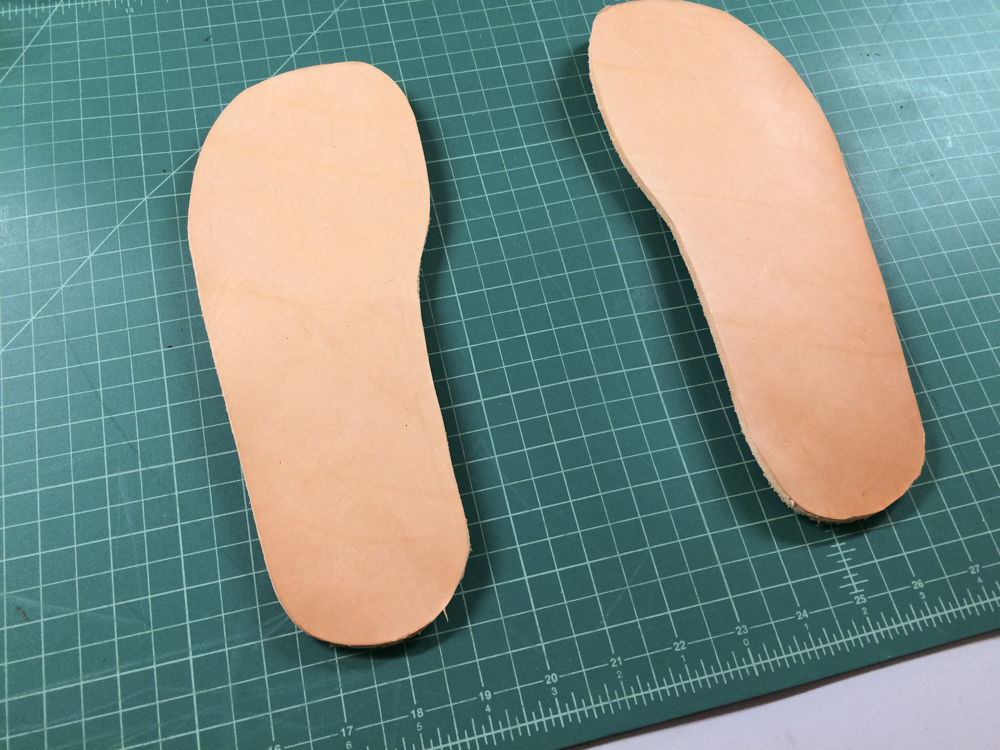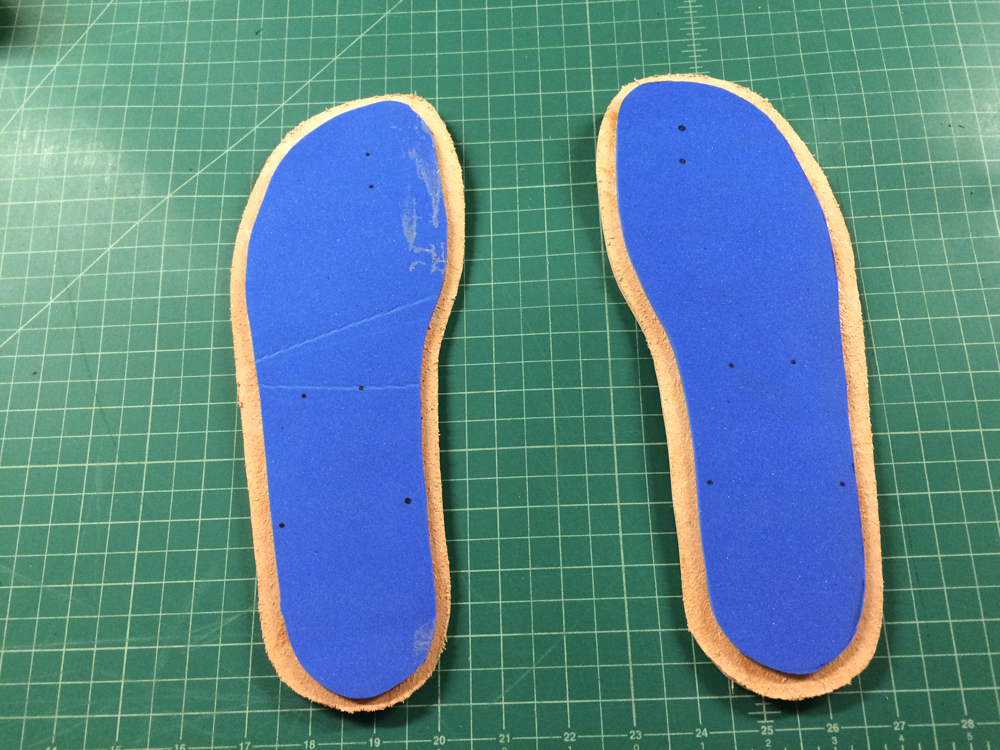 I next cut my straps, leaving the insides long so I could trim them back to their final length. I would later do this to the outer soles as well. The straps are cut as one piece, like an 'X,' so that when they are folded, a smooth surface faces in between the toes instead of a cut edge. You can see in the above pictures where the leather meets up in the center. I got this tip from Tim Skyrme's book on sandal making; it's a great resource if you're thinking of trying this out on your own. There is a foam insert inside the straps, which makes them more comfortable and allows them to fit tighter without hurting.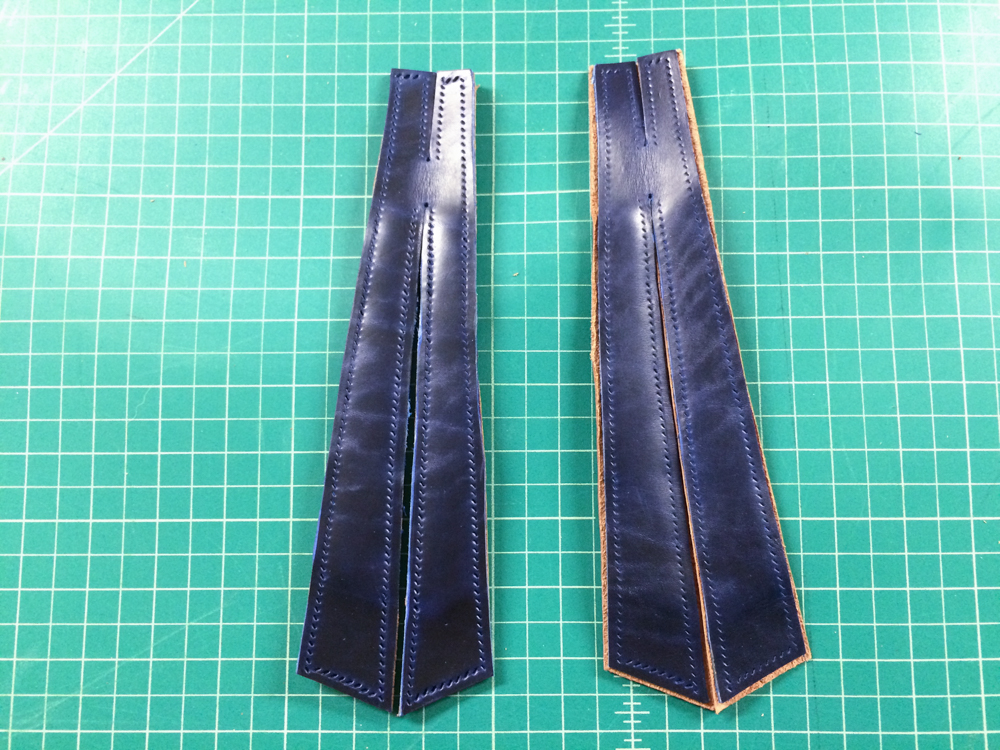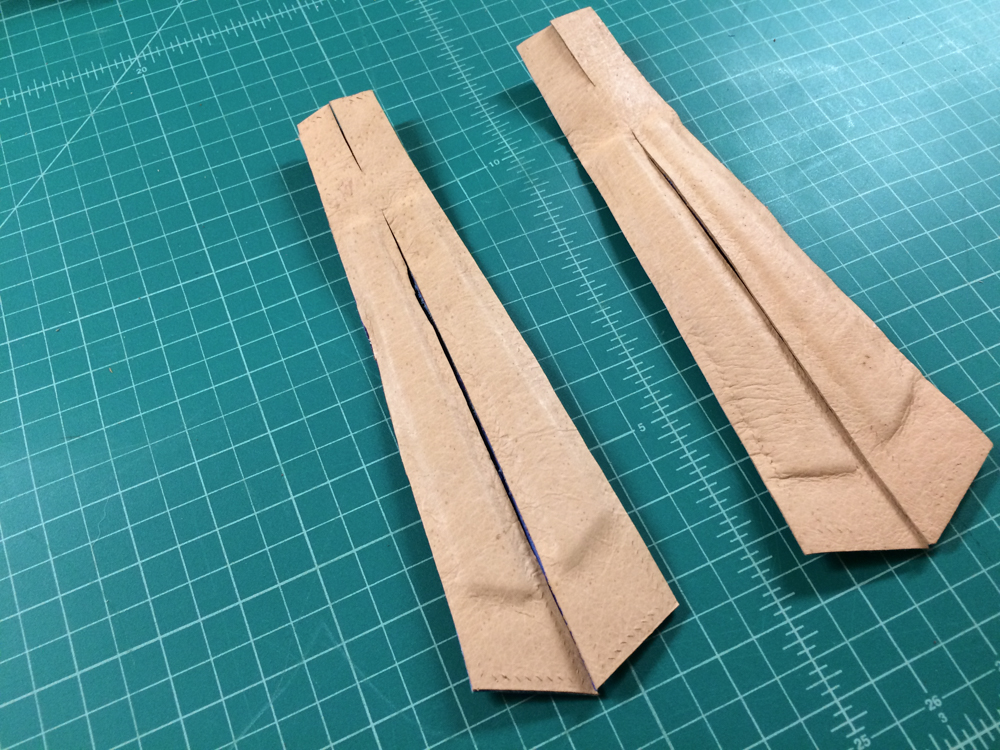 The straps then went into my stitching clam for sewing and then I creased and finished the edges until they were smooth.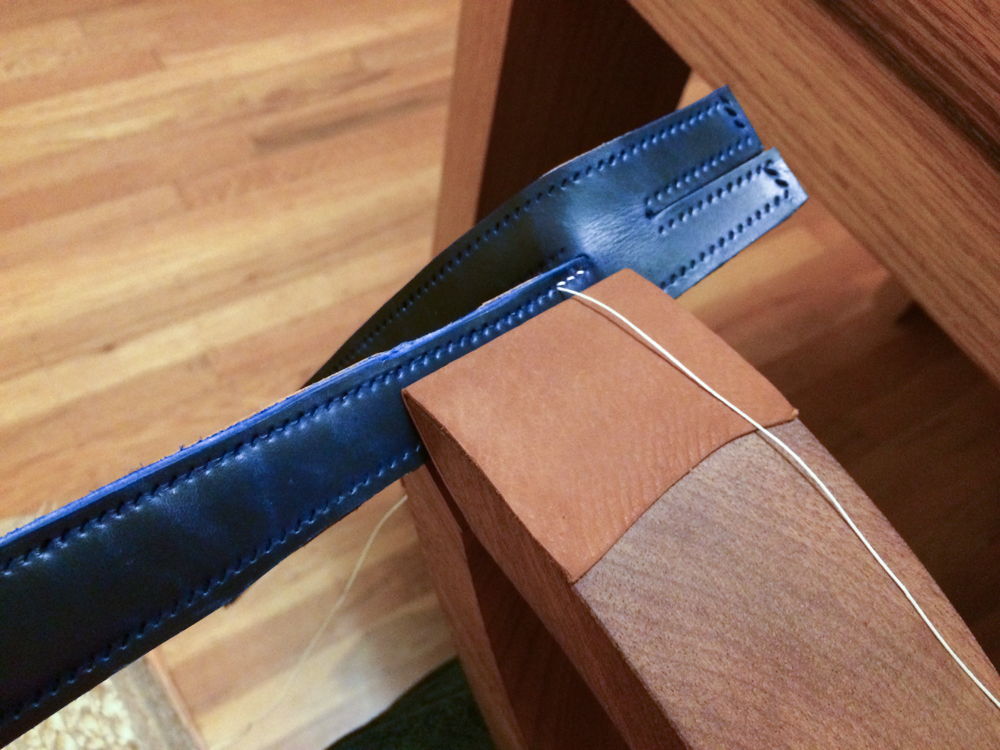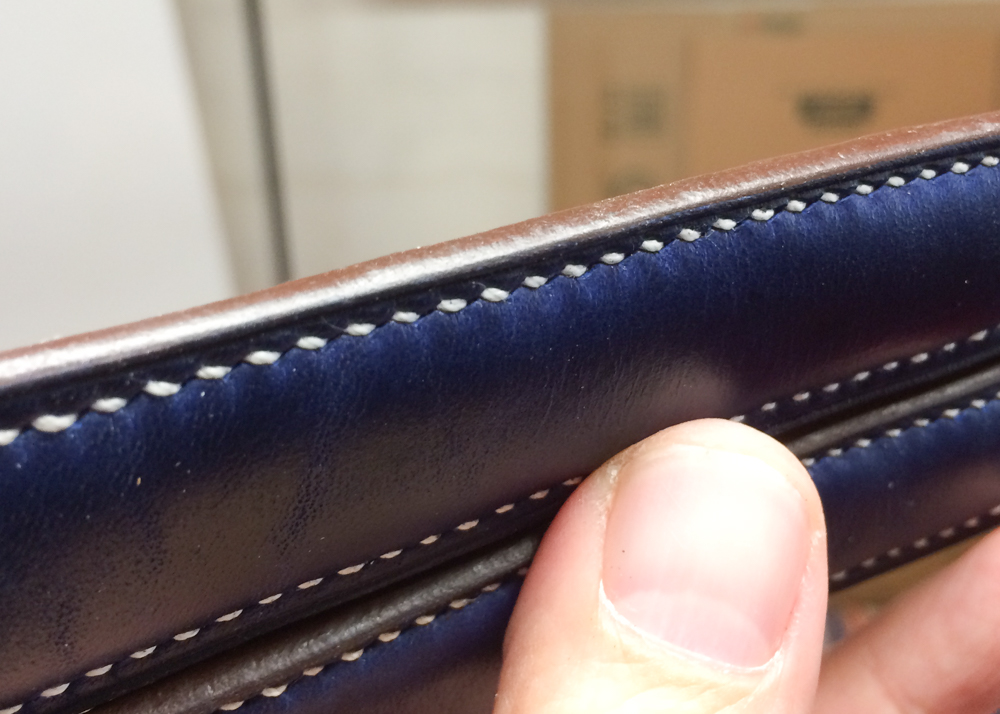 After I sealed the edges, I sewed shut the 'X' to form the strap. You can see that it's reinforced where the leather splits off. The other side of the strap is the middle of the 'X,' and this is where it will sit between the toes. I then did a quick test fit on the insoles to place the front hole.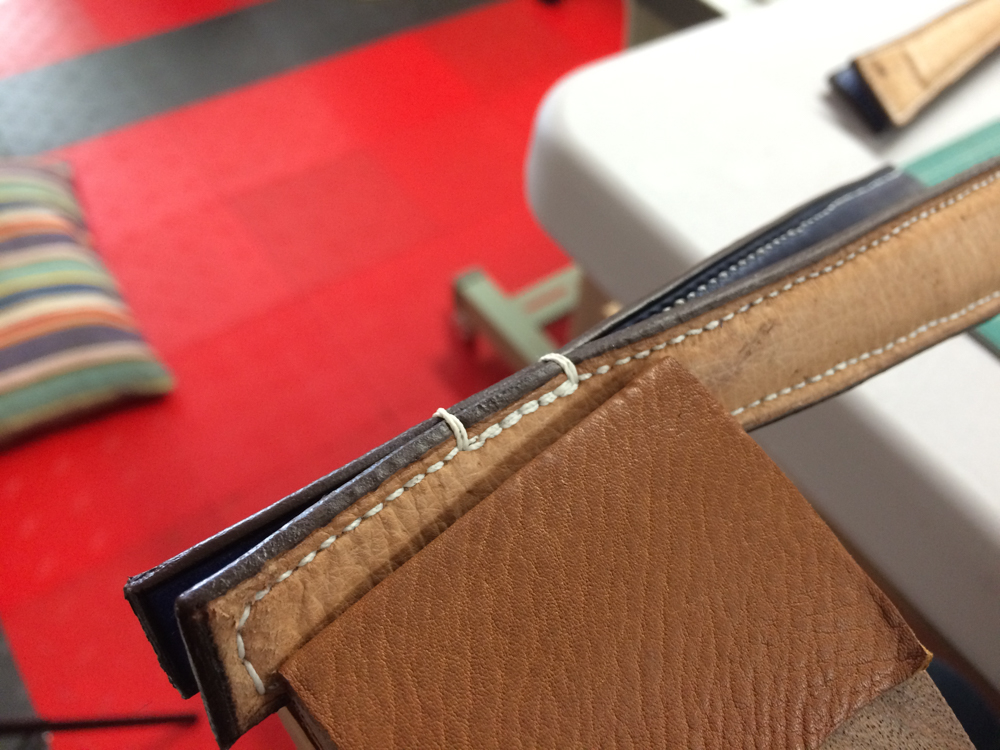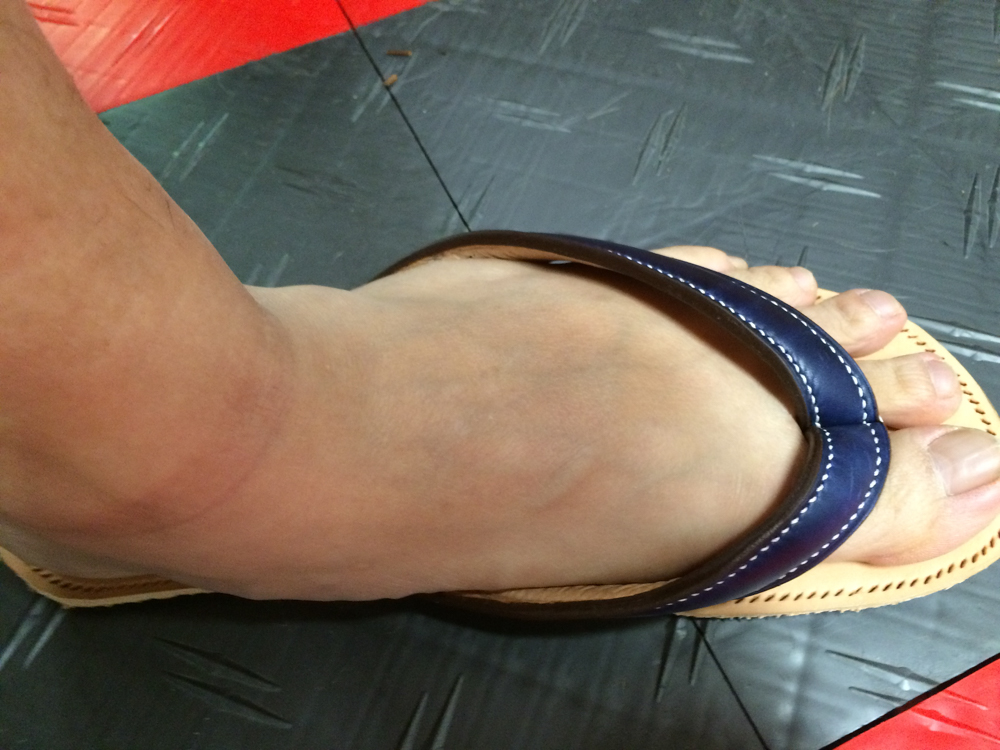 I doubled check my front placement and then punched through my hole. I also marked my stitch marks for sewing the outers. Having both a long and a short pricking iron allowed me to go around the curves of the sole.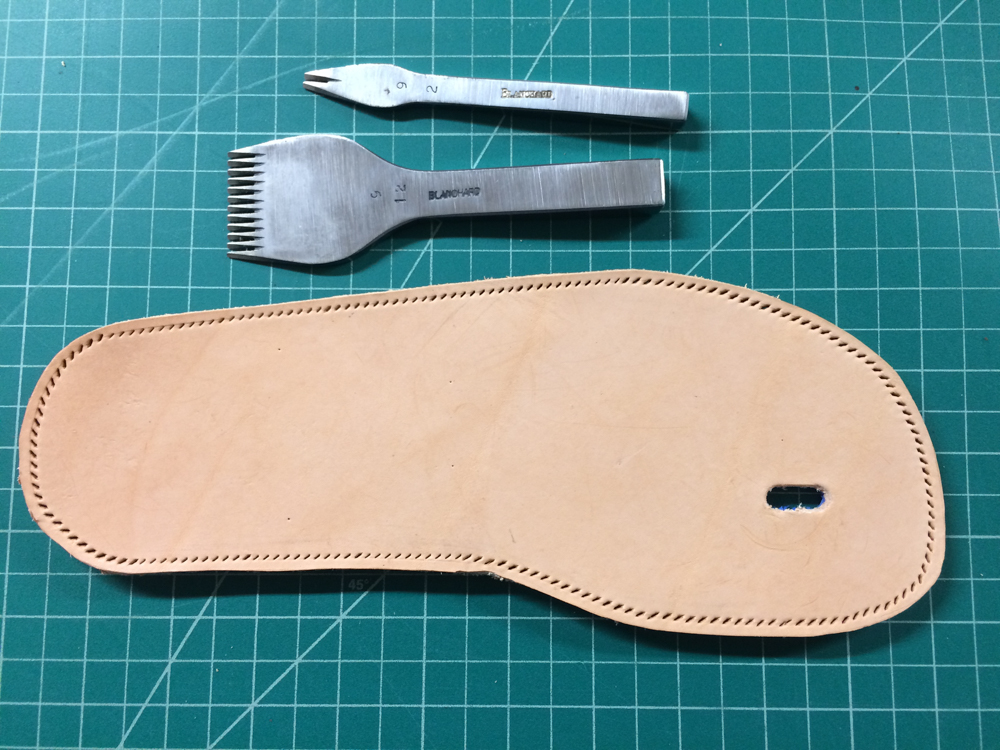 With the front hole punched, I could more accurately place the back holes where the straps insert around the foot. I punched those sections out and now all straps were ready to be secured to the upper sole.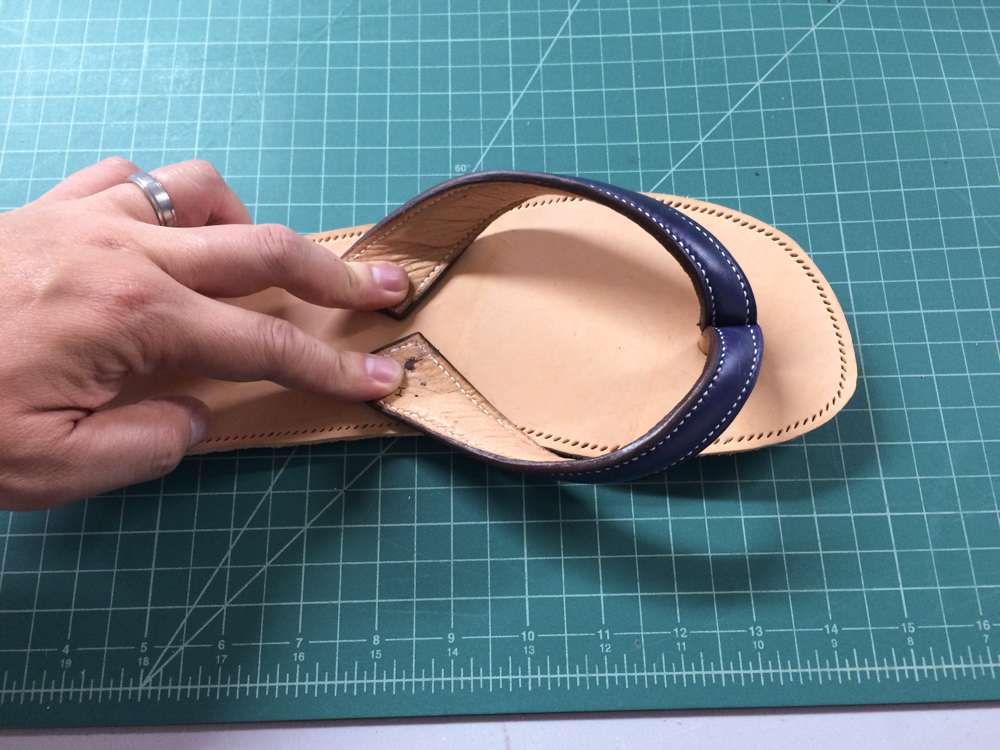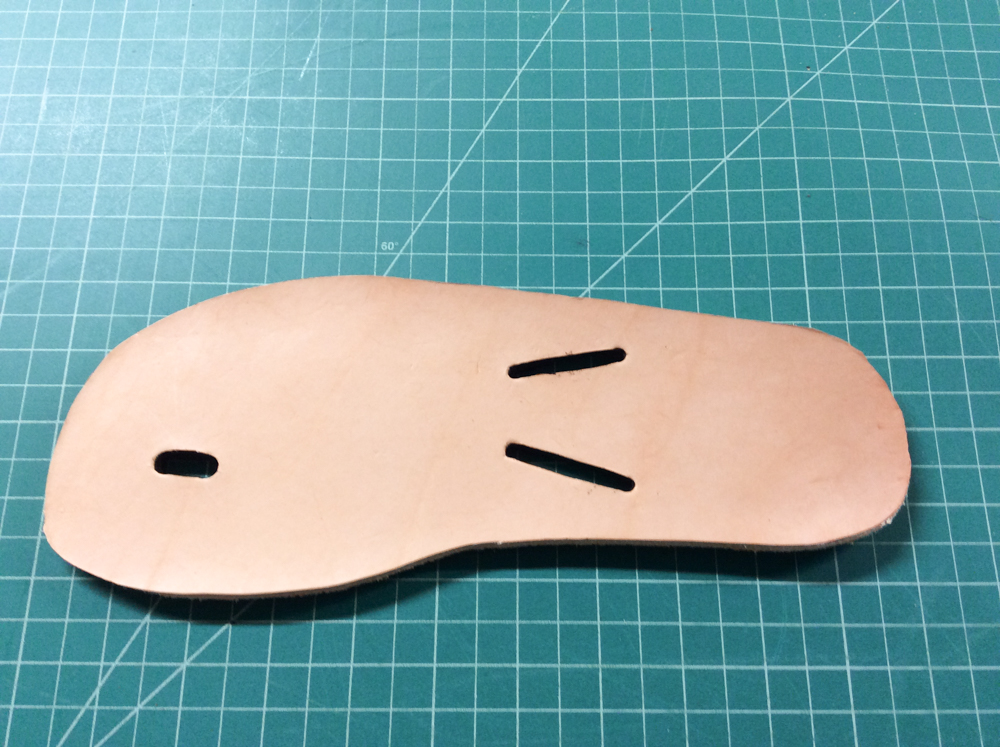 To secure the straps, I glued them in and also reinforced them with copper rivets. I chose copper rivets because they are flat on top and you can cut them to an exact height. I didn't want the rivets to poke into my feet or through the outer sole so getting the height right was key. I also tried to place the rivets where there wasn't going to be heavy contact. The front rivet slips in between the joint of the big toe and the pad. This section of the toe doesn't make as much contact with the sandal. I'm sure I looked strange to my family as I was intently staring at the contours of my feet bottoms.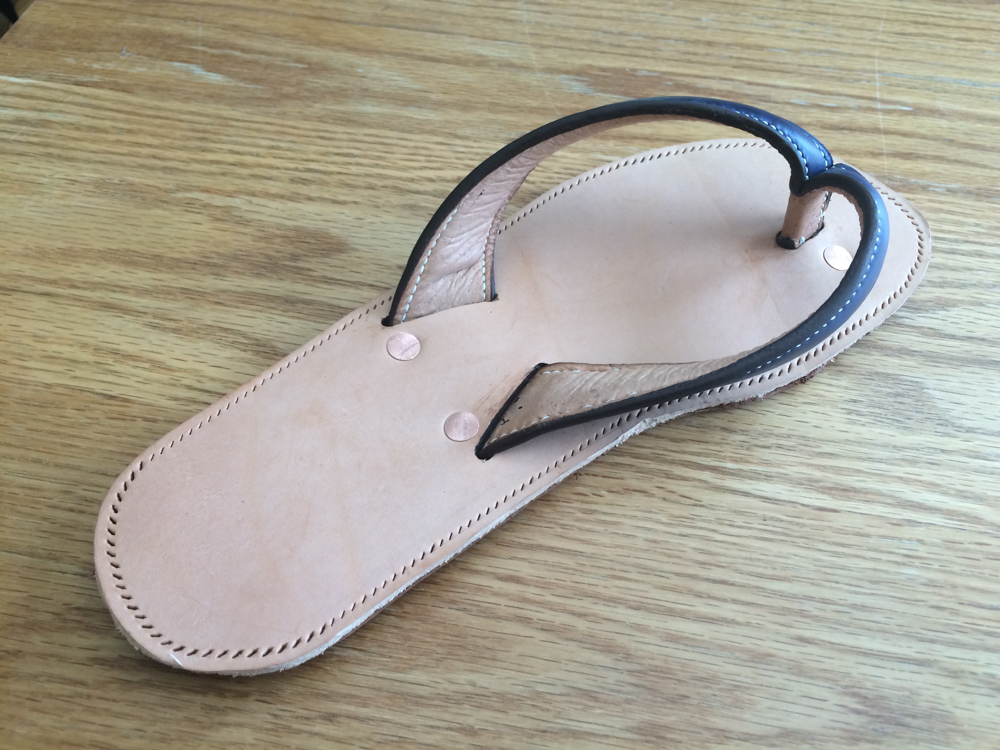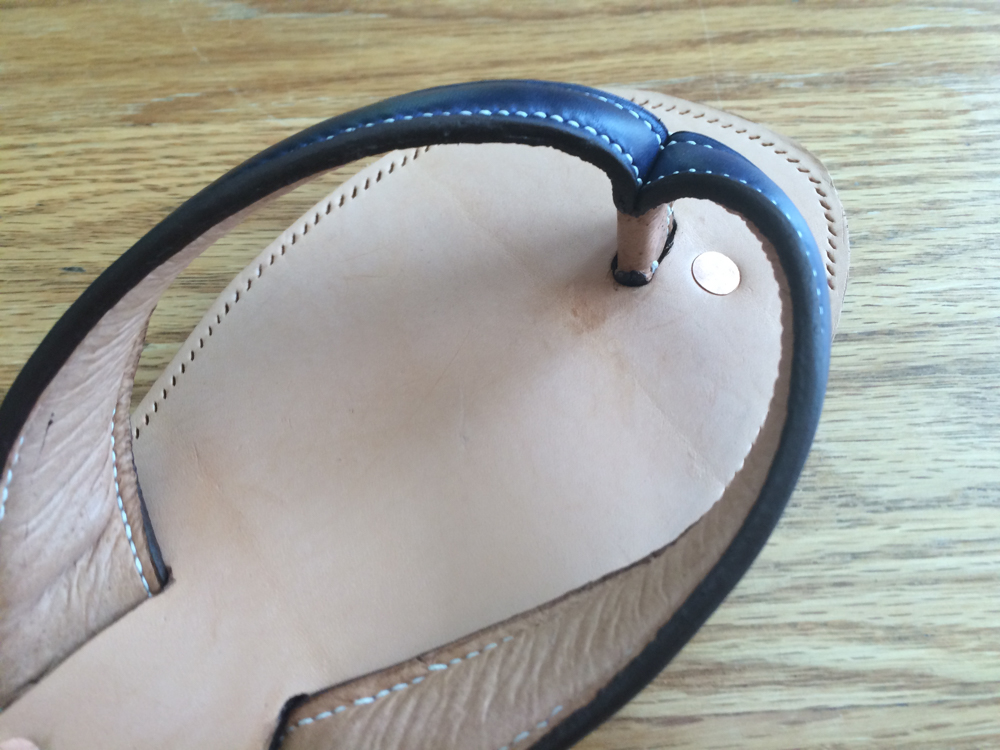 Next up was gluing the outer sole to the mid and inner sole. Since it all gets sewn up, the entire upper portion of the sandal needed to be completed before I glued on the outer sole. I had previously cut the outers wider so that I could trim back the excess to get a straight edge for the final dimensions.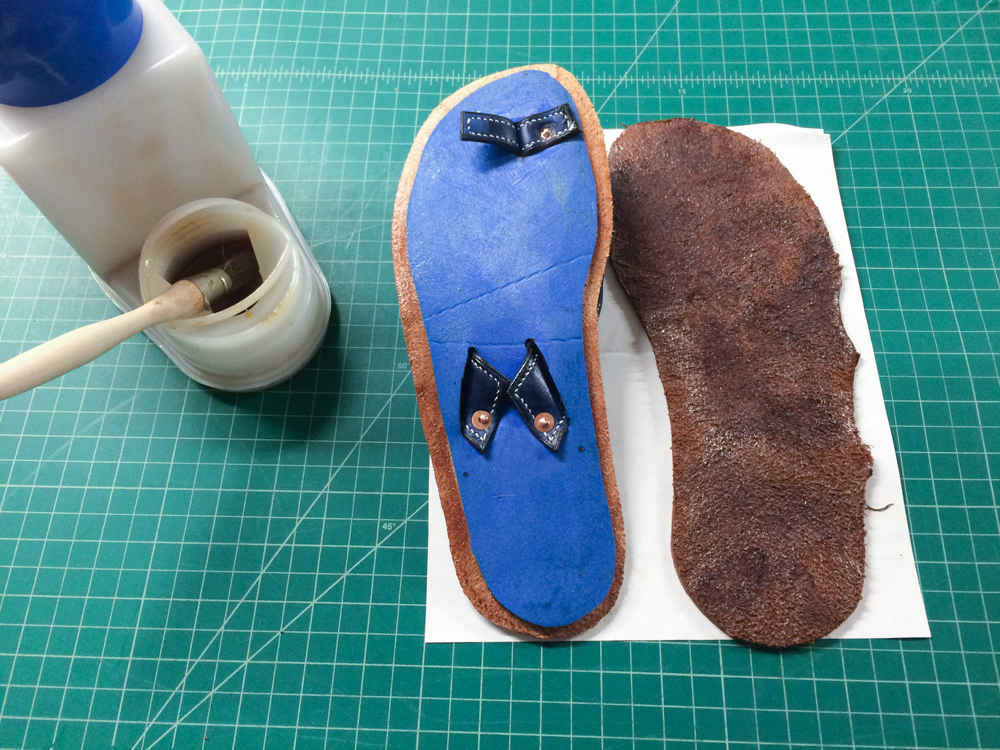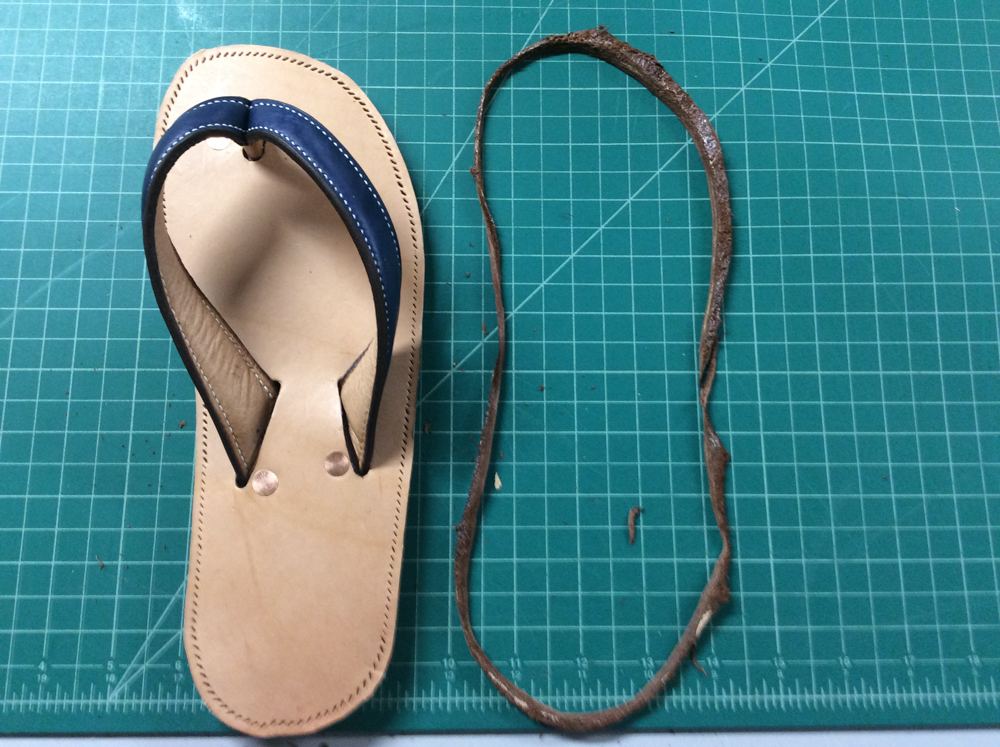 In other stitched shoes, I've seen the seam wear out along the perimeter where the insole is attached to the outer sole. To combat this, bespoke shoemakers will do a hidden stitch in the sole so that the wear from walking on shoe won't abrade the thread. To cut the sewing channel, I set my blade to go about half way down into the outers and then cut a line where the stitch will exit from the top. I then spread out the cut with a tool called a bone folder.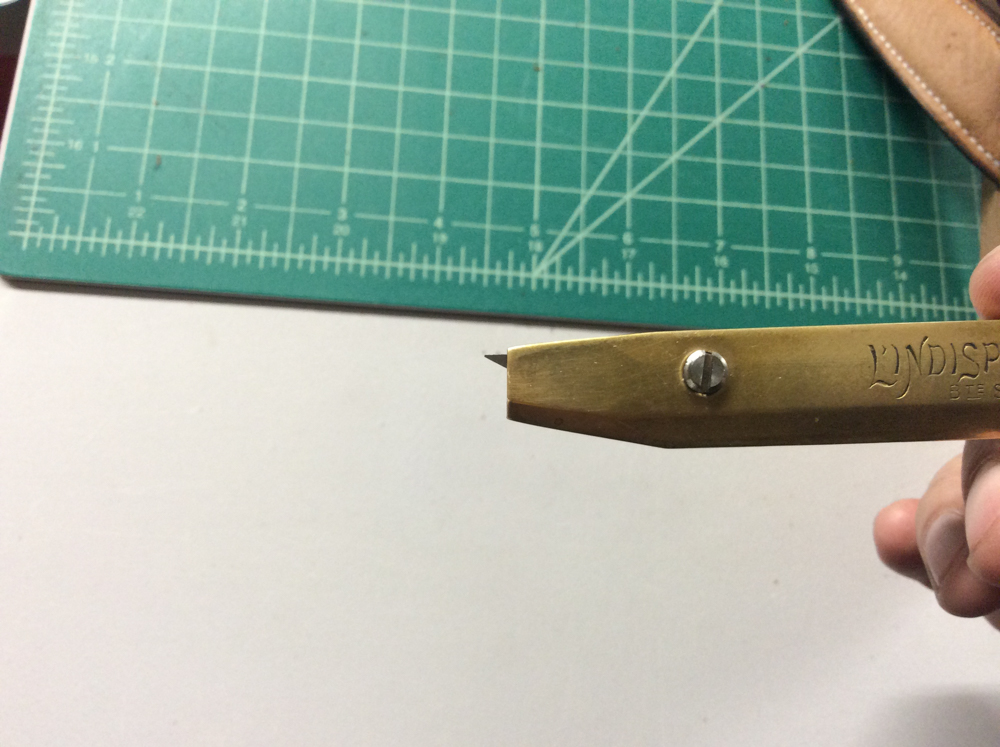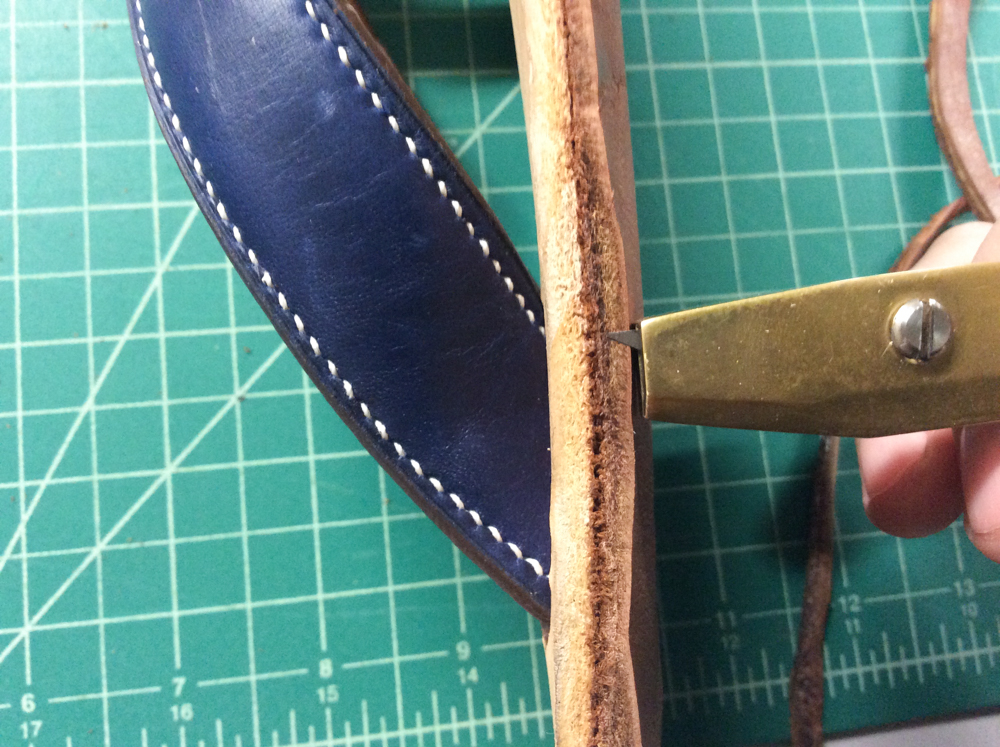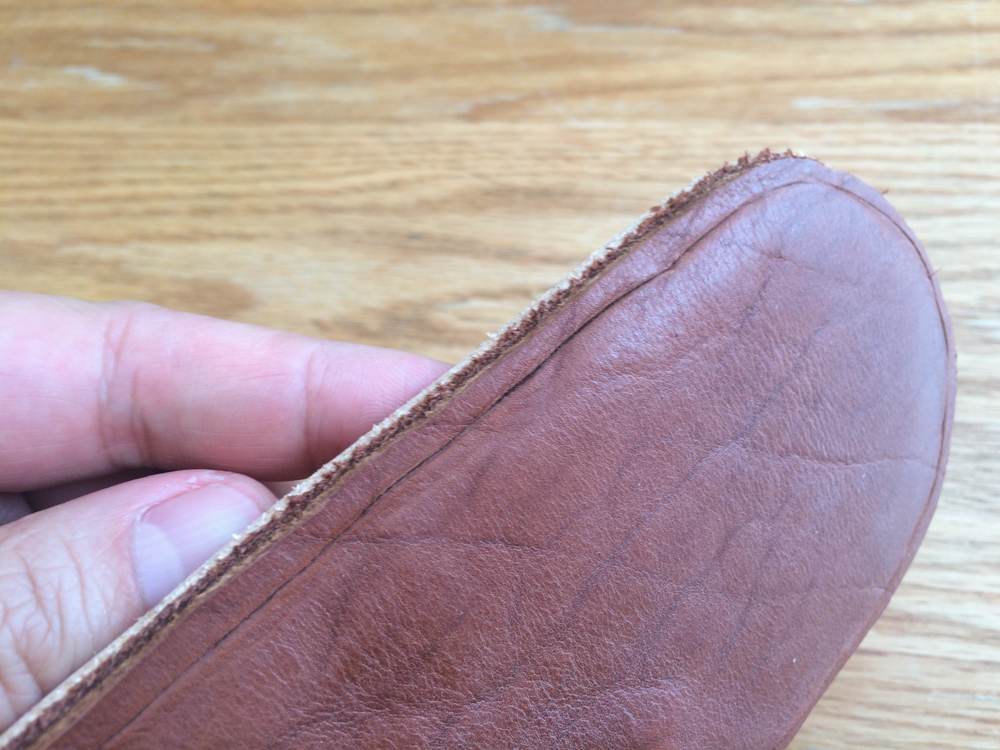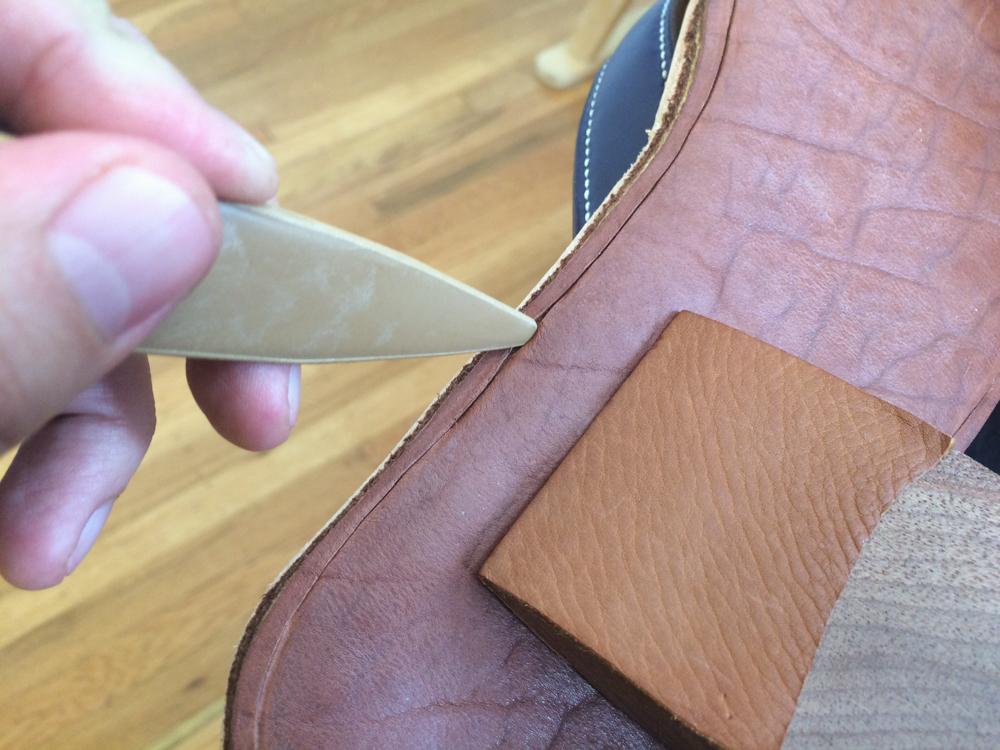 You can see in the photo above why this is called a hidden stich. When you pull on the stitches, the leather closes itself up in most places making the back of the stitch even easier to hide.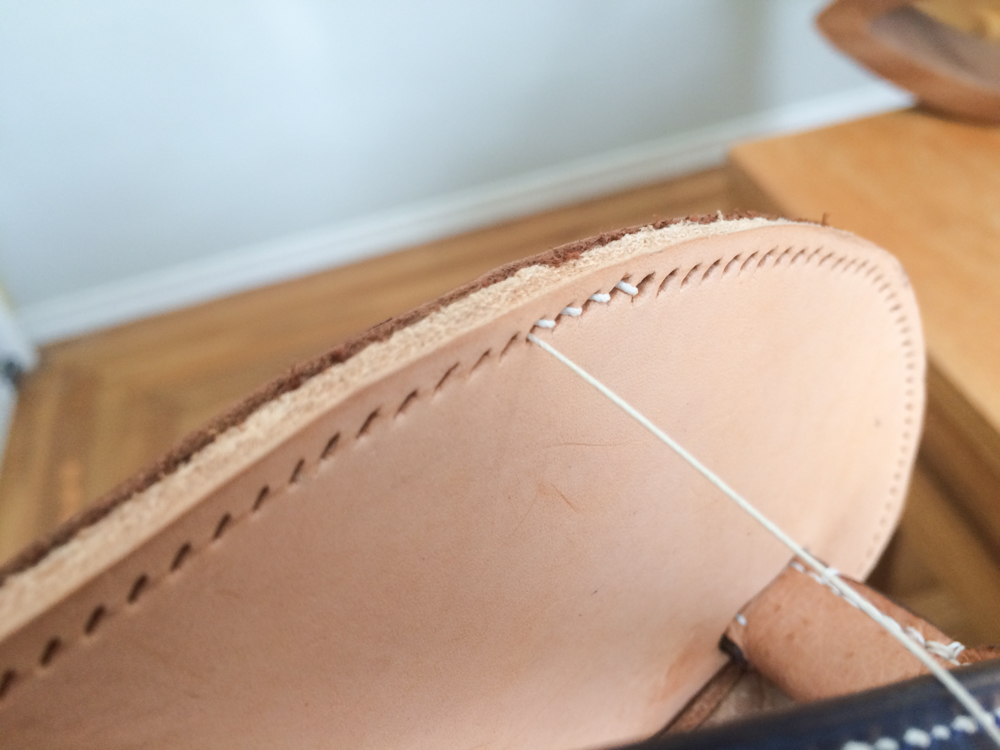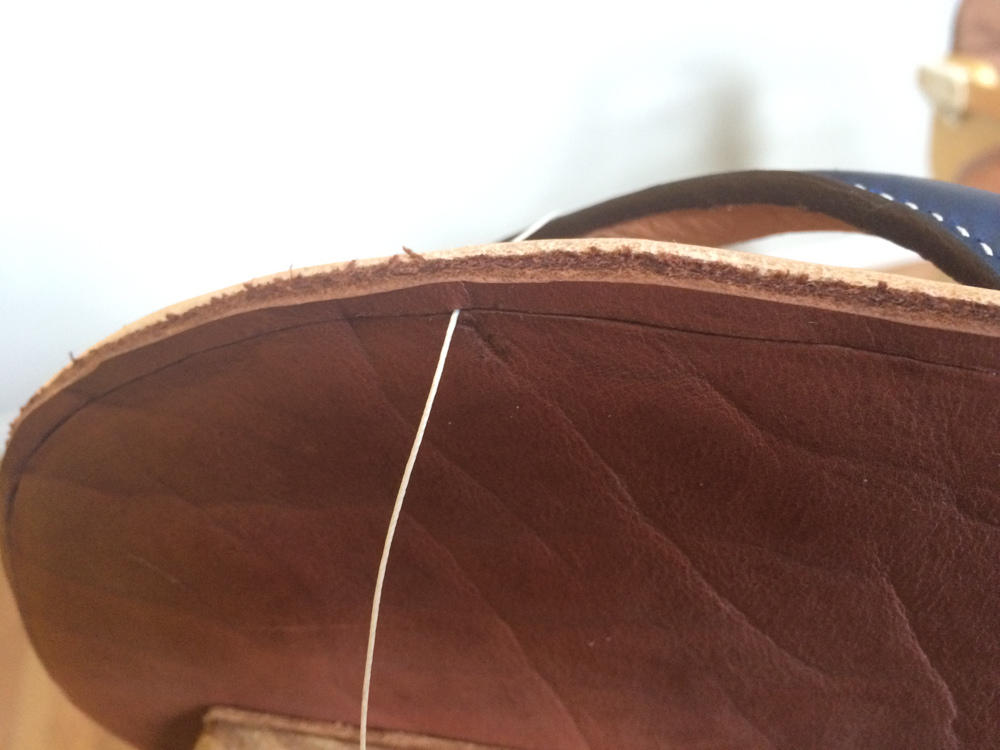 To further reinforce the bottoms, I then put a little bit of glue in the channel and hammered it shut.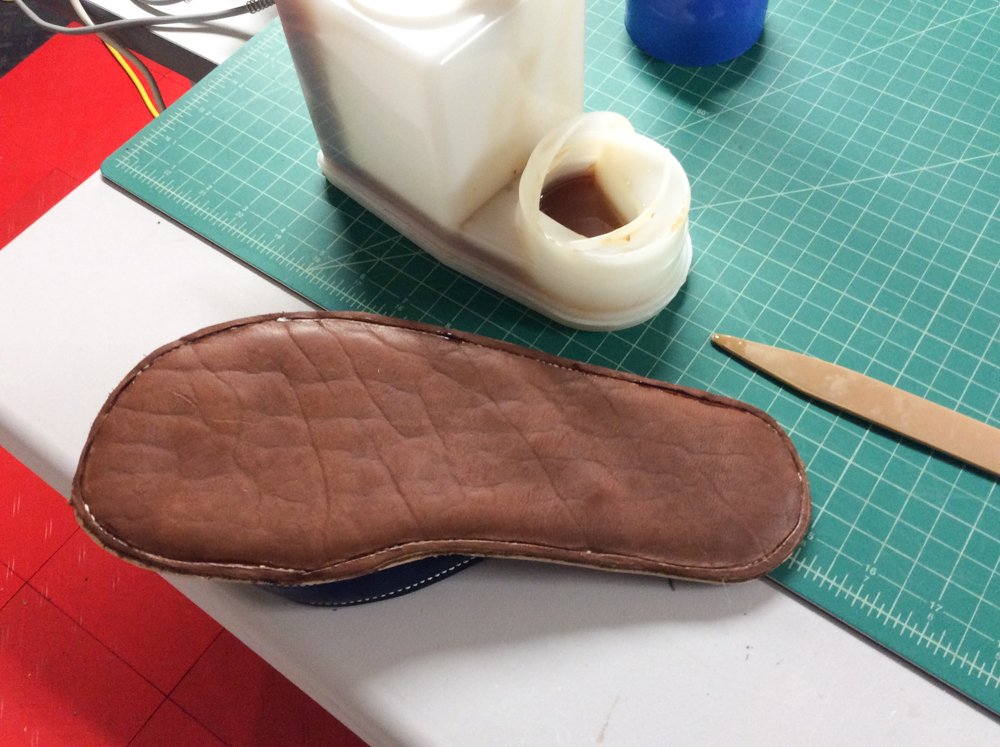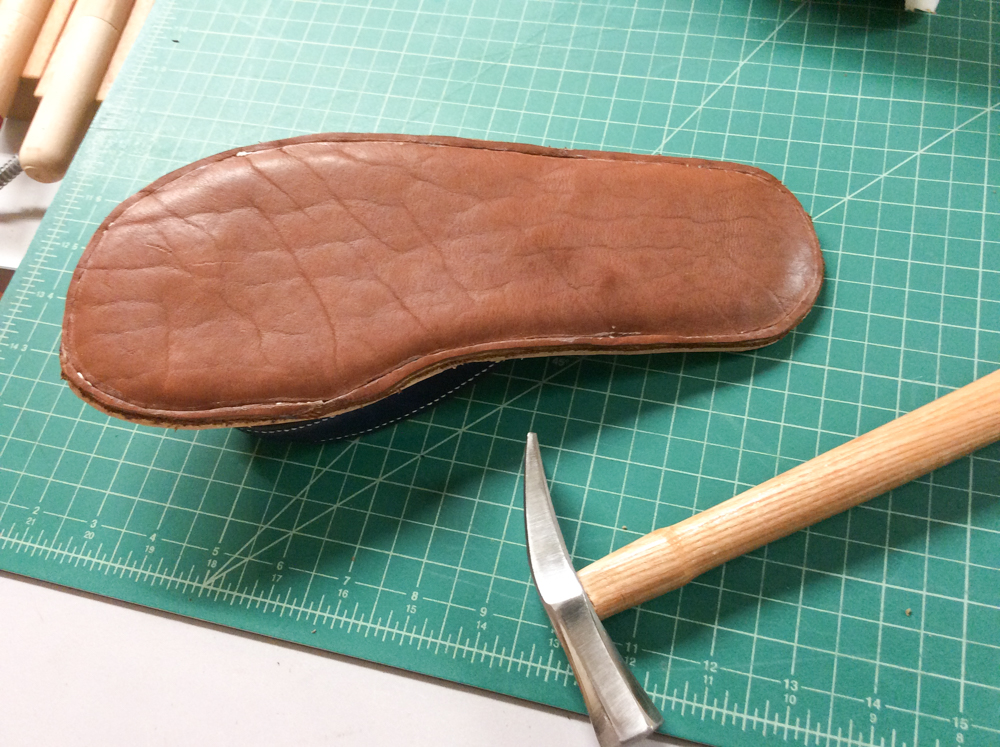 Once the sandal was mostly done, I was ready to finish the outer edges. I shaped, painted, creased">creased, and then smoothed the edges out further with a heating palette.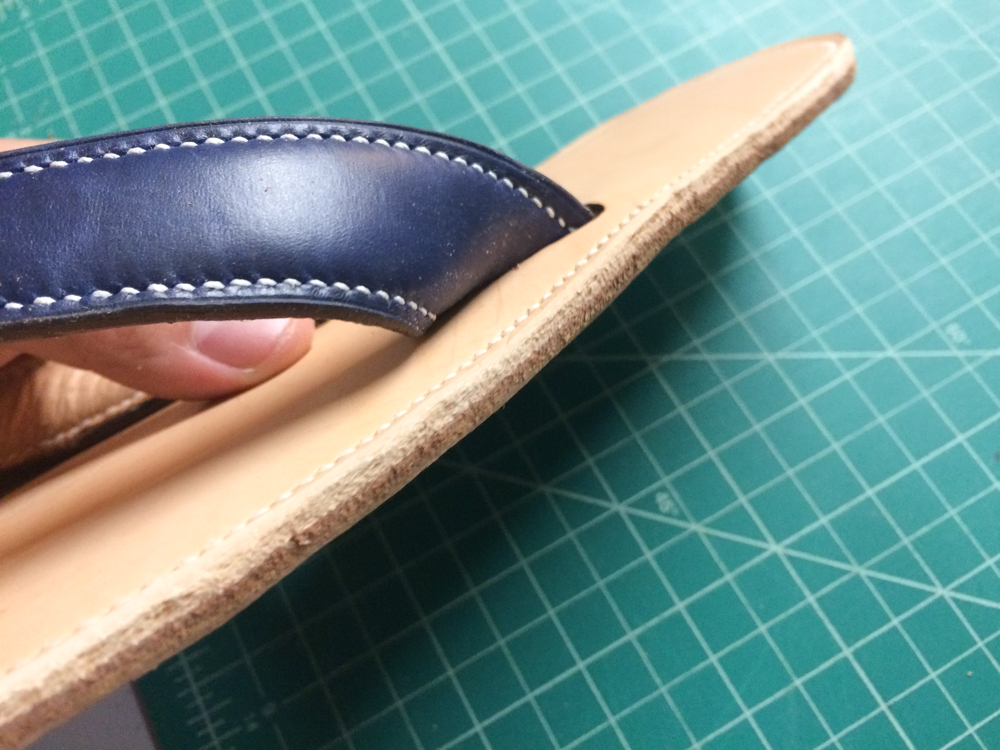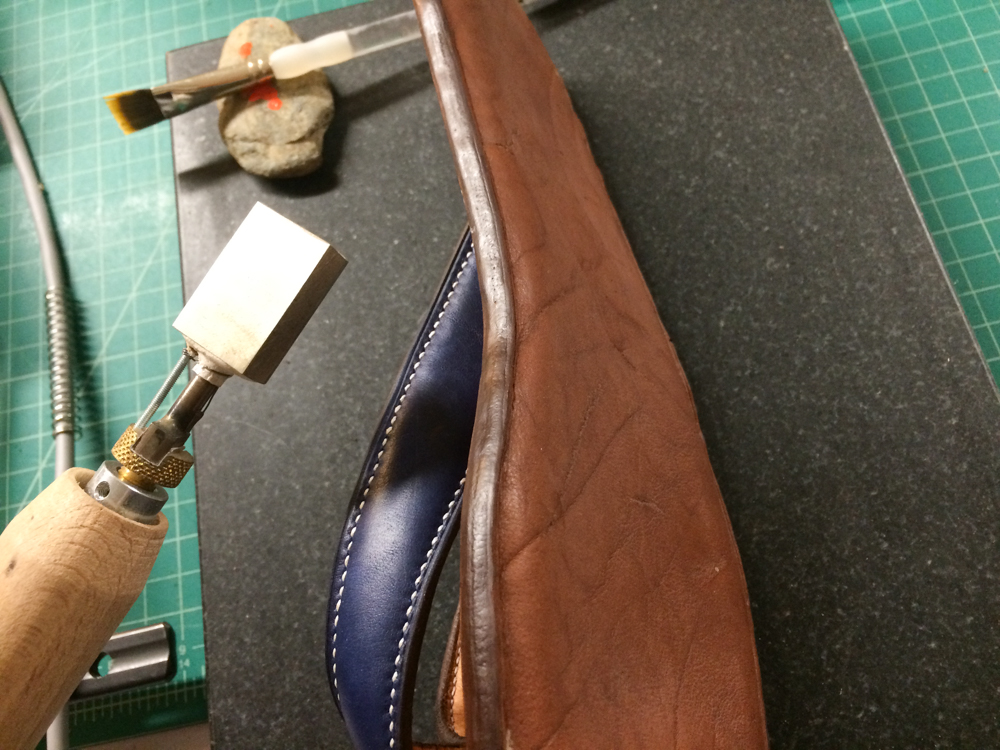 Deciding
The hardest part of this build for me was deciding what to do. I probably spent as much time sewing together these sandals as I did deciding how to design and build them. For example, I fussed over the hole placement for the straps for a long while, probably three to four times as long as it took to actually punch the holes. I also wasn't sure about the correct strap tension around my foot, the placement of the rivets, or even whether to do rivets at all. I learned a lot from building these sandals out and that was the point. Before I started, I had done a lot of reading and researching about sandal making and shoemaking in general. As I have learned from my previous crafting experiences, it's hard to predict the questions that will arise until I start building. I try to mitigate this by asking experts for help and researching as much as possible so that I avoid the common pitfalls. That's only part of the challenge though as it is possible to get perfectly thorough sandal making instructions and still not be able to make them. To make the most of what you learn, try it out but don't have to agonize over what to do. Make one or more deliberate practice pieces to experiment with techniques. I'm going to start using these sandals and in our next post, I'll tell you about what worked and didn't work.