(this is the second article in a mini-series on sharpening, view part one here)
In the last post, I wrote about how to add sharpening to your leatherworking practice and how to transition from using disposable blades to sharpenable knives. If you've decided to take the plunge and practice this skill, congratulations! You will be learning a skill that you can use not only for leatherworking knives but for kitchen knives, scissors, straight razors, and any craft that requires sharp tools.
There are lots of ways to sharpen a knife and everyone has an opinion. Most adhere to the same fundamentals and many will steer you on the right path. For a beginner, what's really hard is knowing when something is working. Since there are many ways that you can get good at sharpening, the different things you can try can be overwhelming. That's why one of the most important things in sharpening for a beginner is being able to assess how you're doing.
You can practice sharpening all day long and get nowhere. It's hard to know whether you're moving in the right direction until you test the final results. So, as you dive into improving this skill, I want to help you by showing you what to focus on first: what to look for when you are sharpening. Knowing what to look for is critical because it will help you to immediately assess how you are doing and to adjust your technique so that you don't waste your time practicing something that doesn't work.
The truth is that there is no one perfect way to sharpen a knife for everyone. You will find lots of people swearing by one technique or another. The best way to navigate the myriad of choices is to pick one and see if it is right for you. As Ron Hock mentions in his book, The Perfect Edge, there are people who want to 'just get the job done' and keep working and others for whom sharpening is a pleasurable pastime. Ron relates his affinity for mowing grass, because he likes the smell of it, to how some people like sharpening. They just like that mirror edge. Neither end of the spectrum is wrong, but it's helpful to be honest with who you are and choose the right technique accordingly.
The sharpening method that I found helpful for me might be different from your preferred method, but we will both be in the same place when it's right. When I spent time training my eyes to see what was happening, learning a technique got a lot easier. Personally, I lean toward the 'likes to sharpen' camp, but I am not fully on that side. I find the practice meditative but I don't go out of my way. For example, I don't do sharpening on days where I'm not working on leatherworking. This was true when I was learning the basics, but now it's a more practical thing that I do, which I also happen to enjoy.
What To Look For When Sharpening
In writing this article, I knew it was important that you see examples of what to look for. So I took out my own L'Indispensable knife and I messed up the edge real nice and good!  I photographed the resulting edge, which you can see below, for this article.
Most sharpening guides start with a blade that is pristine and perfect. The reality is that by the time you've searched for a video on 'how to sharpen a leatherworking knife', you're already knee deep in sharpening and things are going south in a big way. So rather than do 'yet another sharpening guide', where the blade is perfect already, I wanted to start with one that isn't. This way, you can see some common indicators of dull edges and hopefully learn to spot them in your own practice. So let's have a look at the ruined edge just for the this article : )
To make this easier, I broke it down into six things that were wrong with my blade and what I could do to fix it:
Doesn't cut smoothly
This might seem like a no-brainer, but your edge wears out gradually. It's a like frog in a pot; you don't realize it boiling until it's too late. You should be able to cut through 2-3 oz leather in one pass. If you have to do multiple passes, your edge may be wearing out. Another indicator that I discussed in the previous article is when the corner 'wings'. This is where the end of the leather gets pulled out of whack because the blade pulls on the end, rather than cutting without friction. This also happens when you don't hold your straight edge down, so work on both to get your corners right.
Ragged edge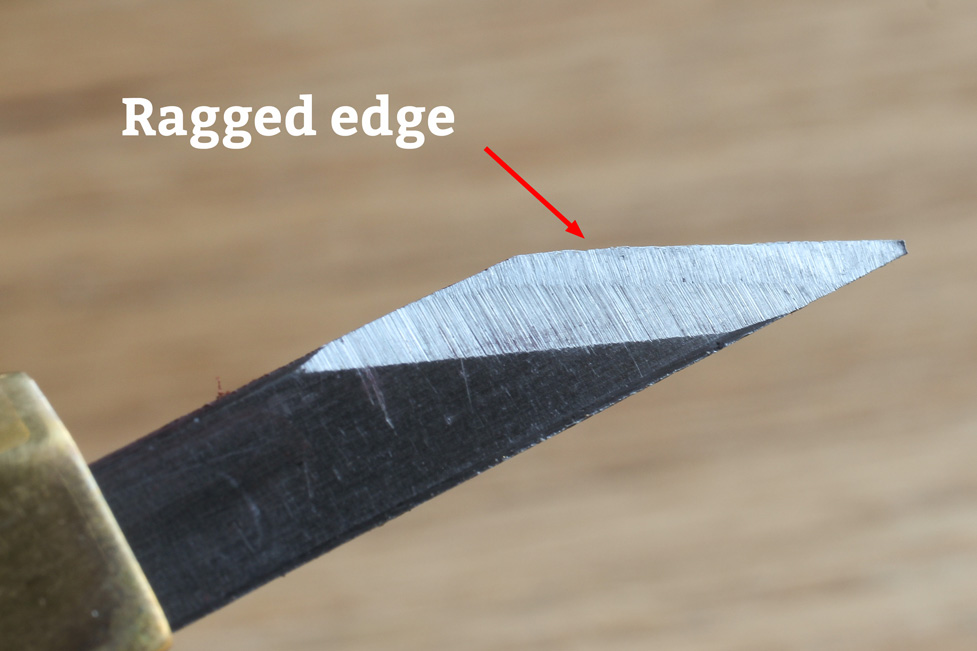 This means that either I chipped it on something hard or I angled my bevel too much and now the metal is too thin at the edge. Chipping the blade happens from time to time and it's really easy to see. The fix for this is to not cut anything hard but sometimes that's unavoidable. The other reason is something you can correct, and that is using too great an angle when sharpening. When the sharpening angle is too high, the metal thins out at the edge and breaks off when used. Different steels can tolerate different angles, so you'll want to test this out to see what is right for your blade. If you find that the edge is ragged after a few uses and there was nothing hard that you cut through, it means that the sharpening angle was too high. During your next sharpening session, lower the angle until the ragged edge goes away.
Light on the edge
This was an 'aha moment' for me, when my teacher pointed it out to me. Ideally, you should not be able to see light on the edge of the blade. If you do, that means that the edge is dull enough – i.e. it is flat enough – to pick up light. Hold the blade under a lamp or next to a window during the day. Turn it so that the blade is almost perpendicular to the light source. The goal is to get a raking light on the edge, just as you can see light reflected on the surface of water at a certain angle. When it's sharp, you won't see light on the edge of the blade. You can check this either after sharpening on a stone or after stropping. If you see light on the edge, it means that it's not as sharp as it could be.
Uneven pattern on the bevel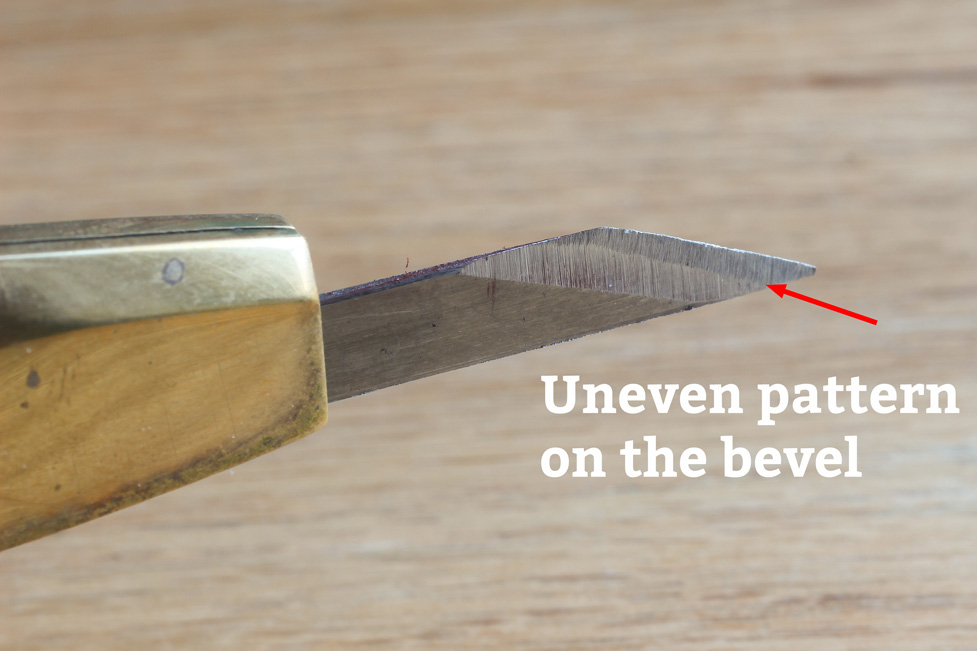 This means that I changed my angle when I was sharpening. You can see the angle change closer to the edge of the blade and the rest of the bevel is darker. This means that I started sharpening at one angle and it changed to another.
Holding the knife at a consistent angle is one of the hardest parts of sharpening. You can use a sharpening jig to hold the blade in place and that works for many people. I challenge you, however, to do this freehand. Once you get a feel for this, you will save loads of time, because you won't have to do all of the jig setup. This leads to particularly significant savings in time when you have multiple knives to do. Jigs also don't help you to overcome the most difficult part of holding a consistent angle: rolling. Rolling your edge happens when you swoop down at the start of your stroke or swoop up at the end. Ideally, the blade contacts the stone and stays at the same angle from start to finish.
No tip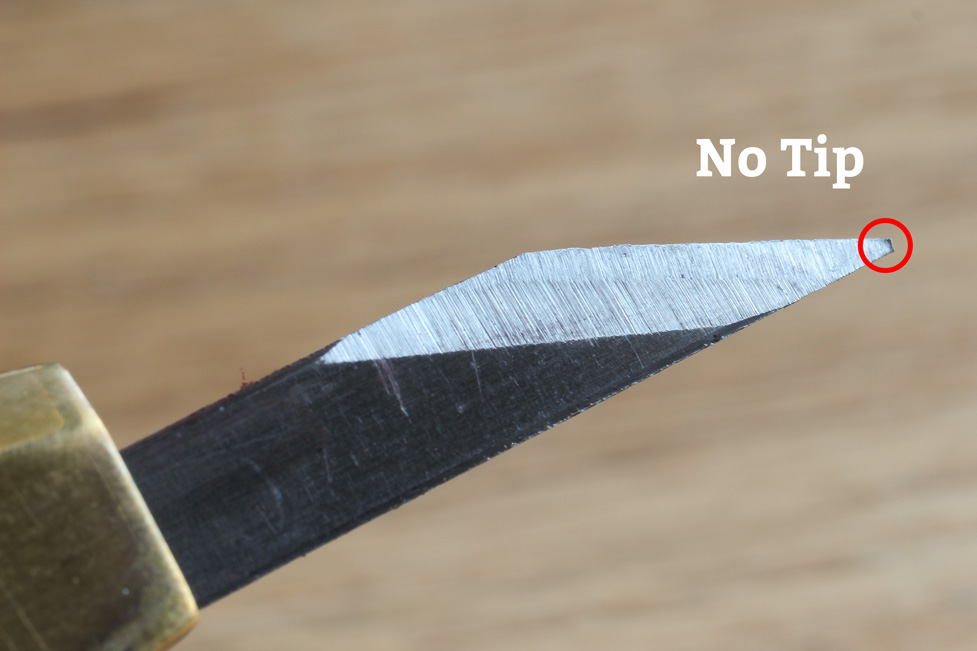 The tip is usually the first to go. Having a tip isn't critical unless I'm cutting a corner on the inside. I'll sharpen this blade to a point if I need to do that but if I'm cutting to the edge, it doesn't matter. If the tip disappears before you use the blade or after just one or two uses, that means that you either over-sharpened it or it got bumped against something during the sharpening process. Another culprit is storage. You want to store your blade with the edge protected. If it's rolling around with the rest of your tools, you will lose the edge faster.
Bevel is not smooth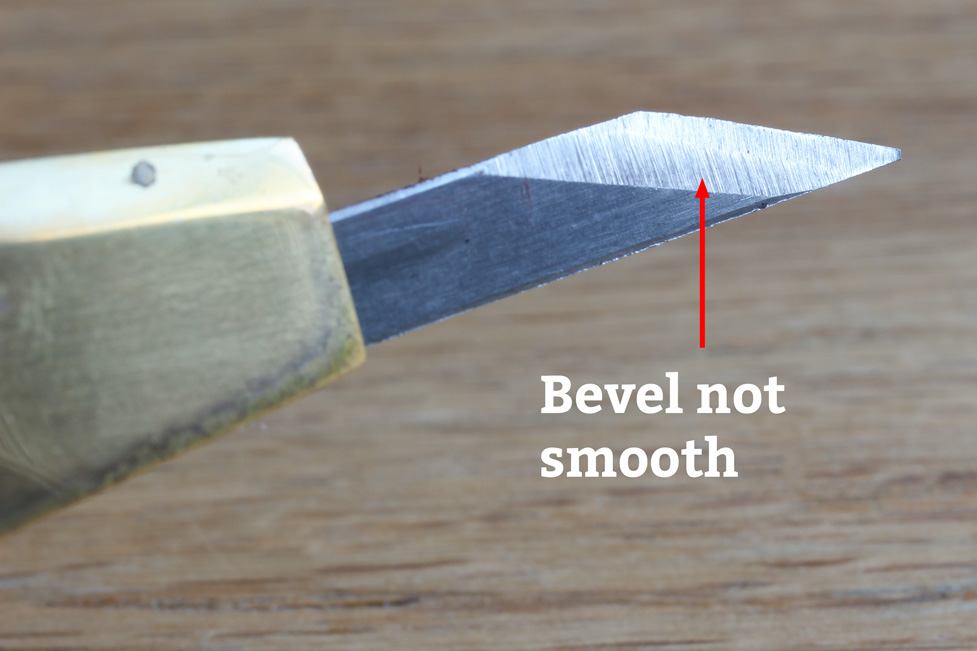 This means that I haven't buffed it enough. It should have a smooth surface when stropped, not like I have it now. You should have a smooth finish after stropping. You don't necessarily need to go for the mirror finish, but the bevel should be at an even angle. One trick you can do is to take a marker and color the edge. When you go back to sharpen, you'll see the ink abraded off the parts where you are making contact with the sharpening stone. You can repeat the coloring of the bevel until you are making even contact.
I hope this was useful in helping you to walk through the different common indicators of a dull edge. The next time that you practice sharpening, check your work by looking for these examples and you should be able to self-correct in no time.