Description
Black, 2-3oz Chromexcel SHF
Chromexcel Single Horse Fronts (SHF) benefit from all of the same processes that go into making Chromexcel cowsides but are manufactured in 2-3 oz. as opposed to the regular 4-6+ oz thicknesses.
They are thinner but also a tougher leather, gaining the strength that comes with all equine hides. Horsehide has a coarser grain but is also more abrasion resistant that cowhide. It will show more variation in texture and natural markings. Horse hide is also used for the premium leather shell cordovan and SHFs have similar qualities in the richness of texture and feel.
Chromexcel is a pull-up leather which highlights the contours and folds of the piece you're making, giving it a more dynamic character than regular flat looking full-grain leather.  Because it is impregnated with a secret blend of oils (a tradition dating back over 90 years), it has a long lasting glow to it that never wears with age.  You can read more about the 28 day, 5 floor process that requires 89 steps to make this amazing leather here. You can see the grain detail in the first and second product images and  thickness difference in the third (the SHF is on the left).  The folks at Horween have a great post on the difference between cow and horse hides.
Hide Cuts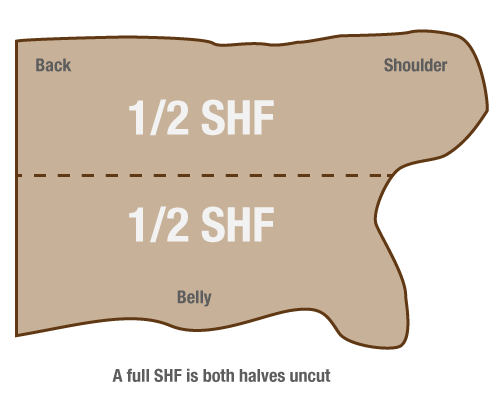 We offer these Horween leather hides as Full and Half Single Horse Fronts.
A single horse front is half of the horse's front including the neck shoulder, back and belly. Overall they are about 11-16 sq. feet so we've subdivided our offering into small SHFs and large SHFs. A 1/2 SHF is divides the hide vertically or horizontally; whichever splits it into equal usable portions.