Description
Black 4oz Chromexcel
Chromexcel is a pull-up leather which highlights the contours and folds of the piece you're making, giving it a more dynamic character than regular flat looking full-grain leather. Because it is impregnated with a secret blend of oils (a tradition dating back over 90 years), it has a long lasting glow to it that never wears with age.
The rich aniline and semi-aniline finishes showcase the grain of the leather.  Chromexcel's careful tanning process also ensures a comfort feel and durability for you and your customers. Not only does it look good but it is able to withstand repeated wettings and still dry soft.
There are three secrets to making Chromexcel:
full vegetable retan done with an in-house custom blend of retanning liquor
genuine hot stuffing- the impregnation of leather with a proprietary blend of natural oils and greases that are solid at room temperature
an additional full week long drying process.
You can read more about the 28 day, 5 floor process that requires 89 steps to make this amazing leather here.
Chromexcel is proudly made in Chicago.
Hide Cuts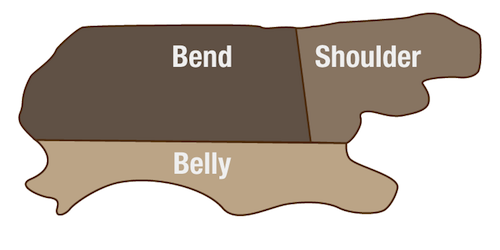 We offer four types of hide sections which are described below.
Side
One side of a whole hide. This is half of a whole hide split at the top (the back). It runs from the neck to the rear and is composed of a single shoulder, a bend and belly. 17-19 square feet
Single Bend
A single bend one side of a leather hide with the belly and shoulders removed. Bends are generally considered the best part of the hide. The back of the hide, near the spine is the thickest and firmest part of the hide. You'll probably want a full single bend if making belts or other long items. 10-12 square feet.
Single Shoulder
The front portion of the side including the neck, shoulders and part of the side. An excellent portion of the hide and a smaller alternative to a single bend. 5-7 square feet.
Belly
This is the lower part of the hide towards the underside. Belly Leather is relatively softer and stretchier. It is generally wavier than the rest of the hide. Leather hide bellies are good for making small items and are priced more economically. 3-5 square feet.