Description
Light Green 6-7oz Shrunken Calf
We have partnered with the German tannery Perlinger to bring you exclusive access to shrunken calf hides. They are used world-wide by bespoke leather goods makers and the top leather goods companies. Products made from shrunken calf are some of the most highly-valued and sought after leather goods available.
Grain
These hides have a natural full grained surface. They are not buffed nor corrected and each has a unique grain texture. The shrinking process pulls the surface closer together, subsequently resulting in a much more visible and deeper grain. Because the hide is shrunk, it also creates more durability and thickness but without the hardness of other similar hides. These are combination tanned hides with the color running through the full thickness of the leather.
Thickness and temper
2.4-2.6mm in thickness. This is equivalent to 6-7 oz or 3/32 – 7/64 of an inch (0.09″ – 0.11″). The feel of the leather is slightly springy and is light for the thickness of the hide. These shrunken calf hides have a mellow temper and are flexible and soft for their thickness.
Hide Cuts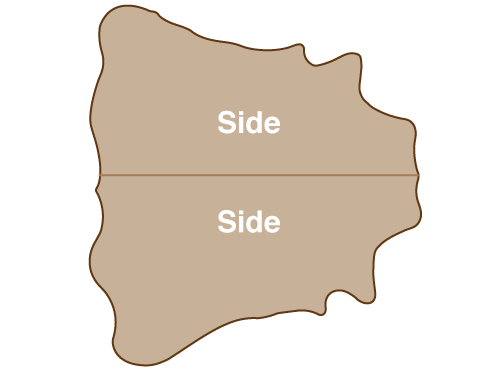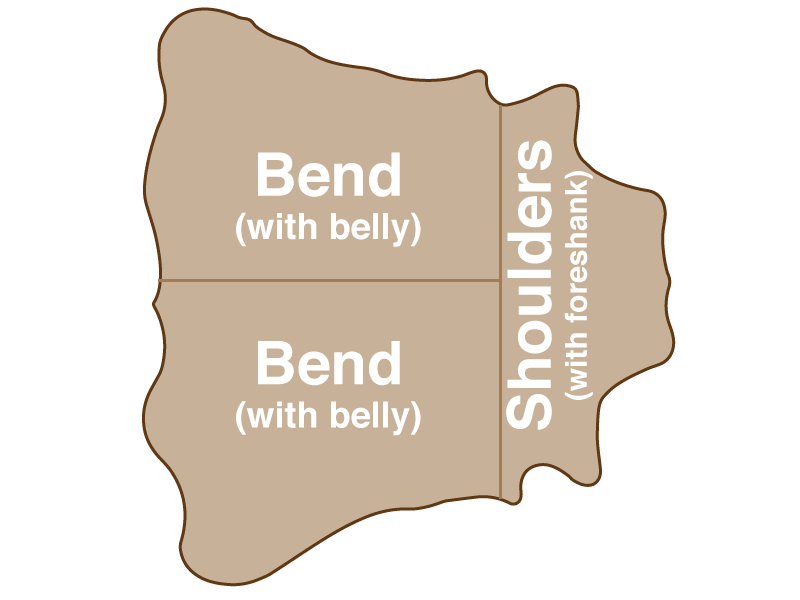 We offer four types of hide sections to match your project needs.
Full Hide
One entire hide of calf leather. This includes the bend, shoulders and belly of the hide. Since a calf is smaller, a full calf hide is about as much leather as side of cow hide. 20-25 square feet
Side
One side of a hide. This is half of a whole hide split at the top (the back). It runs from the neck to the rear and is composed of a single shoulder, a bend and belly. 10-13 square feet
Single Bend plus
We offer calf bends which includes the what is traditionally a single bend but also includes the belly underneath the bend. 7-9 square feet.
Double Shoulders
Our offer of calf shoulders includes the what is traditionally a single shoulder but also the foreshank which is usually part of the belly. 6-8 square feet.
Quality
These hides are sourced from a very small selection of German Simmental cattle. Only the hides with the best surface quality are selected. They are produced sustainably and will be available in limited quantities. These three factors mean that the cost per square foot is higher than commodity leathers.
We recommend to only use this leather for your best projects and most premium products.
Service
We don't add any handling fees to our leather price and we offer free shipping to US destinations.
Satisfaction
As with all of our products, we offer a 30 day money-back guarantee if you are not satisfied with your purchase.