At Fine Leatherworking we get a wide range of customers in search of luxury quality leather working tools. We get beginners who want to do great work but don't know where to start, and we get experienced craftsmen who are looking to improve the quality of their work.
Every once in a while however, we get a customer who is different. They're usually older and they call because they want to talk to a person first before ordering online. They often have a very specific question about a tool or material that we have on our store. Somewhere in our conversation, they mention a company that they work at and I Google it as we are talking. That's when I discover that this polite gentleman is the owner of a huge leather goods company. I'm always shocked when I get these calls because my immediate reaction is 'why would you bother with a little shop like ours? You have a corporation that is a thousand times bigger than us, so what could you possibly need?' Their answer always makes me smile.
"I'm always looking for something better."
They don't mean a company better than theirs; they could easily crush us.  They're talking about finding new tools and better techniques.  We finely curate the products we carry and offer the best advice that we can give. When these guys see that we're offering a new tool, paint or a technique that they've never seen before, they always reach out to us.  At first I chalked it up to them being a collector of fine tools and sometimes that is indeed the case.
I've found that every customer like this is always looking to improve his or her work. Most have been working with leather for many years, but even after all that time, they're not resting on their laurels.  These are lifetime craftsmen who have sometimes started their companies out of the trunks of their cars and built them into companies worth millions of dollars.  But when they see a potential opportunity to improve their materials or their technique, they always take it.
When I get the opportunity to speak with people of this caliber, I try to find out what made them successful in their business and their leather craft. Today, I'd like to share five of their most common principals.
Refine, Refine And Refine More Until You Think You Can Do No Better; Then Get Your Work Out There
As I mentioned above, masters of a craft are always learning and trying to improve. It is often the case that once you reach one plateau, the next one becomes visible. The ascent into mastering a craft really never ends, but it's ok to start where you are. You want to refine your work as much as possible. Go just a little beyond what you think is 'good enough' and try to do the best that you can. Don't push yourself to the point of frustration and failure, but don't settle for mediocrity either. This is especially true when you're just starting out.
Once you reach what you think is the best you can do, get your work out in front of people. Sometimes you have to start by selling out of the trunk of your car, on Etsy or another marketplace. You don't necessarily need to sell your work, but get it out in front of people. Get feedback on your work, earnestly listen to what people have to say and continue to refine. I will often do better when I'm making something for someone else. Using your work for gifts is a great way to get your stuff out there.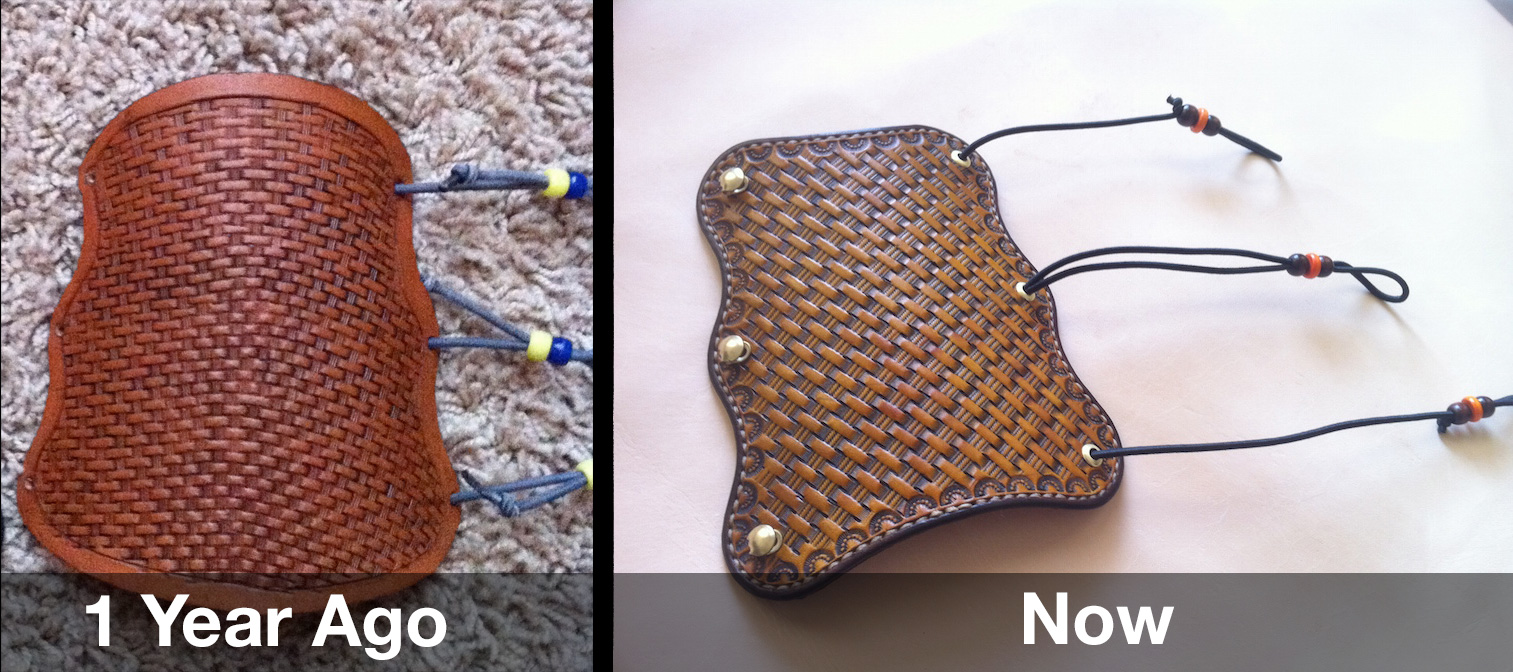 Here is an example of an archery armguard made by one of our customers, Chris F.  The photo on the left is from a year ago and the photo on the right is a recent arm guard.  Notice how everything is better about his work: his stamps are clearer, there's more nuance to the pattern, the edges are finished better, there are grommets for where the cords go in and there's stitching on the edges. You can see both the individual improvements on each aspect of his work and also how it improves everything overall.
Try To Improve Just One Aspect Every Time You Work
You've probably heard this piece of advice before. I've heard it a lot myself.
When I get calls from leather craft veterans, they're not looking for ten different ways to improve things. They're usually laser focused on just one aspect. That can be nearly any aspect: sewing, edges, gluing, cutting. Or it can be just one detail like how to improve the buttons on my work. Trying to improve everything at once will drive you crazy, so focus on just one aspect at a time. When I'm doing a project, I will choose one component to really focus on. I'll tell myself that 'everything needs to be good, but the zipper construction on this piece needs to be great.'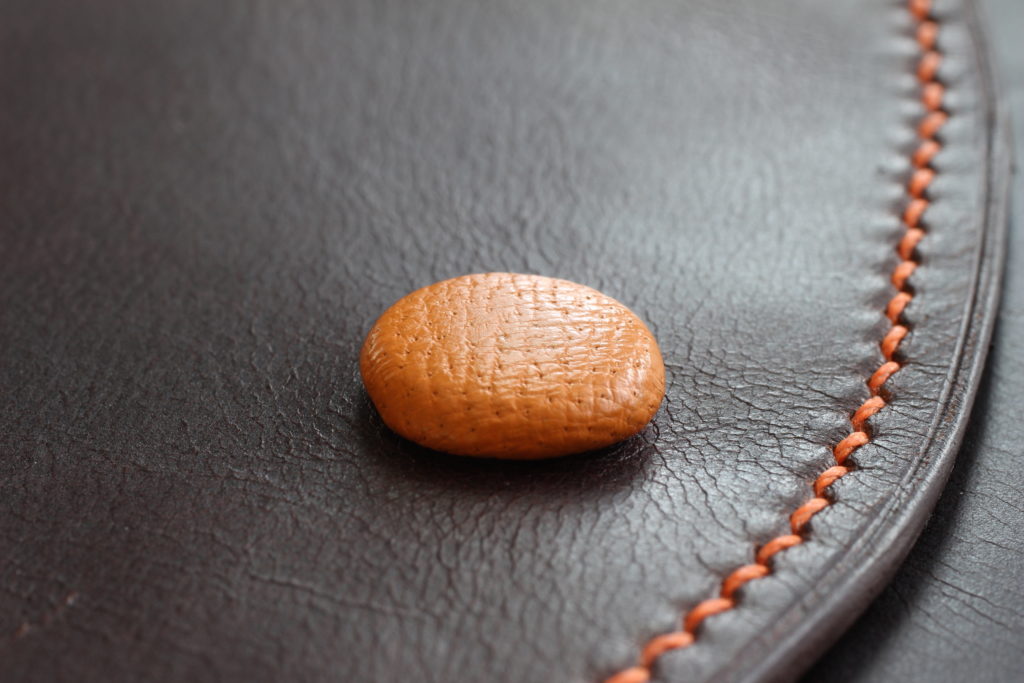 An improved button using a leather cover.
Focus On Just A Few Products And Be The Best At Them
One question that I always ask longtime makers is 'what do you feel made you successful?' and I usually get the same answer: "focus on a few things and be the best at them.' When I research their companies more I often discover that they didn't start out offering everything.  They usually started out offering just a few products or even just one product.  When I ask about their story, it's usually that they honed and refined and refined that product.  At the same time they also marketed it and tried to get the word out until enough people noticed. Eventually they reach a turning point and go on to great success. You don't have to offer a huge catalog of items at first. It's often the case that you get a reputation for one or a few things. Focus on those few things first, then branch out as you get better and well known.
Take The Time To Learn A Skill
Sharpening is one of the most important skills in leatherworking and it's also one of the hardest. It took me several months to be passable and a whole year to get decent. Before I started leatherworking I carved traditional Noh masks in Japan. When I was learning woodcarving, my teacher always sharpened the tools for me.
I didn't understand why at first, until I started trying to sharpen on my own. It was a painfully long process for me to sharpen just one tool. When I asked him how long it would take to learn to sharpen, without hesitation he said 'a year.' And he was right. After a few months I could sharpen a tool enough to use it, but it took a long time to get it as sharp as he could. I'm going to share with you my sharpening knowledge and hopefully help you to learn faster, but it's important to remember to take the time to learn these kinds of skills. The good news is that once you get good at sharpening, it takes less and less time. I would literally spend an hour sharpening a chisel where my teacher would take about 10 minutes.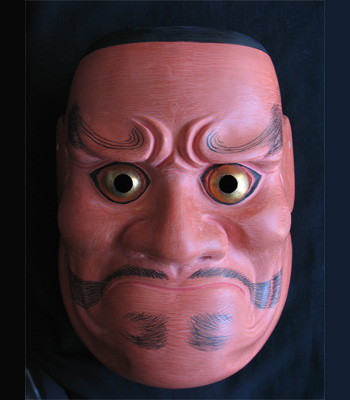 Here is a picture of my work. It's all hand-carved out of wood.
If You Love What You Do, You'll Never Work A Day In Your Life
Often the successful leather goods makers I talk to were not classically trained in a leather school.  They searched and searched for the best instructions that they could find and practiced and practiced until they felt that they could produce something that they could be proud of. This always inspires me because it reinforces the fact that you don't always need to have 'the right' background to excel at something and that you can start at any time. What I have observed from these experienced leatherworkers is that they love what they do. Their passion for what they do was a major contributor to their success. People often say you have to be disciplined to be good at something. While this true, discipline does not have to be drudgery. If you love what you do, you will take it seriously and the discipline and work required to be good will come much easier for you.
For me that was making leather bags. It's crazy I know, but making the perfect bag is, for me, what drives me to do great work. I never get tired of looking for new designs or trying new techniques and construction methods. I'll spend hours on this whereas other people will give up after just a short while.
What was the one thing that you wanted to make that inspired you to get into leatherworking?  Please let us know in the comments.