Recently we went on a trip to Japan and though this was purely a family vacation, I thought it would be cool to check out some of the leather crafters in Japan.  One of the biggest advantages of working with leather in Japan is the wide availability of materials and tools. You can simply walk up to any Tokyu Hands department store and there will be an entire aisle devoted to just leather and tools.  I was in the middle of Kobe and had no trouble picking up a few tools and hardly had to go out of my way.
My favorite place though was Kyoshin Elle (協進エル), a leather store in Tokyo. They stock tools from all over including Seiwa, Craft Sha and of course their own brand.  They have a healthy selection of leather and those very nice stamping tools that everyone on the leather forums always raves about.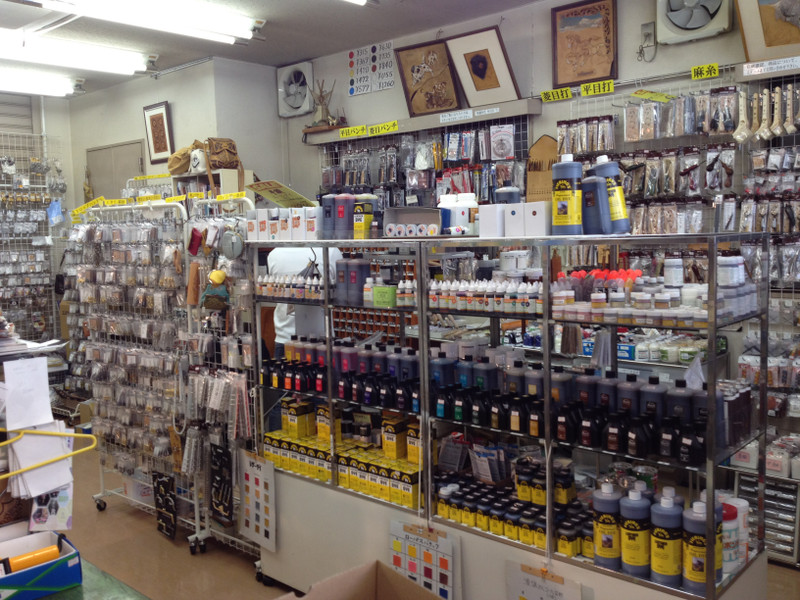 (photo source: micsucco.weblogs.jp)
If you're ever in Japan I highly recommend a visit to them.  As a bonus if you do decide to go are all of the shops around Kyoshin Elle.  Apparently there is an embosser who will do foiled engravings for your pieces very close by and I saw at least two sewing machine shops on my way from the subway.  I visited a machinery store who sometimes carries used Juki sewing machines and Nippy skivers.  He only had new ones when I stopped by but it's definitely worth checking out.
If we were to carry Kyoshin Elle tools, which ones would you be interested in? Send us an email to store [at] fineleatherworking [dot] com