This is part of a series of posts where we interview leather goods makers from around the world. We're reaching out to people who are part of the new generation of leather workers seeking to elevate the craft of making leather goods.
I did a phone interview with Jerry Tolochko, co-founder of Restrepo Leather. He and his wife Robin live down in Bogota, Colombia and make a high quality line of bags for men and women.
Jerry and Robin partnered with an existing shop in Bogota where many of the artisans there have been working in leather for a long time. They have helped the store open up to the international market, particularly the US. They run the marketing, distribution and customer service for the online store as well as collaborate on the design of the products. Jerry's first class in leatherworking way back was actually with that shop. His roommate had been to first to take the class and then got him and his wife to take it too. After that, he was hooked.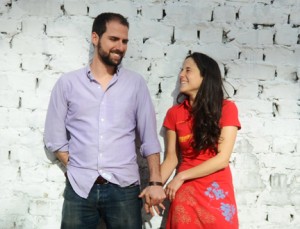 We talked while he was the shop, situated in a bustling part of town.
Fine Leatherworking: I just heard a bus go by!
Jerry Tolochko: Yeah our shop is located on a prominent road in Bogota. It's a popular spot!
FLW: That's awesome. Where'd you grow up?
JT: I grew up in Atlanta, Georgia. Born in Atlanta, went to school there and then went to college at the University of Georgia right nearby in Athens.
FLW: Wow you don't have a Georgia accent at all.
JT: [Laughs] Yeah, growing up in the big city pretty much clears you of any accent. I mean my Dad pretty much has no accent and he grew up in Atlanta before I did. I went to an international school so that helped. My wife also grew up in Atlanta and pretty much has no accent.
FLW: What did you do before you started making leather goods?
JT: In August of 2010, my wife and I were tired of our jobs in Washington DC, quit and bought two tickets to Bogota having never been here before. So after about six months I started taking leather classes at this workshop and started teaching some English classes. So immediately before I was teaching English and in Washington DC I was a defense contractor. And at first leather working was a just a hobby for me but after my wife and I started working, we had enough to invest in starting a leather company. (Jerry also currently works as country manager for a US public relations and communications company in Colombia.)
FLW: What are some of your favorite materials hardware or leather?
JT: So I've only had a chance to work with what's available here in Colombia. There's some combination tans – part vegetable, part mineral – and I've really liked those leathers here that I've worked with. We line the majority of our bags in goat suede and that's been really fun to work with [especially] the different colors, combinations and possibilities there. In terms of other materials and hardware, we're actually running down that path now talking to local artisans to get some hand cast buckles, and I'm excited to see what comes of that.
FLW: What's the favorite piece that you make?
JT: It's called the Bolivar bag. It by far and away my favorite.
FLW: What's the favorite piece that you don't make?
JT: One is this thing I found on Etsy, a kind of bike cozy for beer cans which I think is amazing. I'm a fan of both biking and PBR so that's definitely nice. And then I found these belts made by this guy in France, which I think are beautiful. Those are my top two that I've found online.
FLW: What was the first leather piece that you made?
JT: The first piece that I made was in my class in leatherworking. I've always loved the 'Angle' wallet produced by the company Makr. That was the first thing that I made.
FLW: What really 'flipped the switch' for you for making leather goods?
JT: What I really love about making leather goods is that I love problem solving. I love the construction angle of the process. Thinking through all the calculations that need to be made and coming up with the patterns that need to be made to produce the bag. I also love the calming aspect of the process; poking holes and sewing; it's very Zen.
FLW: So when you're doing leatherworking, how do you start your day?
JT: I first check to see if any pieces need edge painting since our particular technique uses 4 or 5 layers of paint and Bogota has a similar climate to San Francisco [where the author lives], it's always kind of cold and rainy and so it takes a really long time to dry.
FLW: What's the most rewarding part of doing leather work?
JT: Seeing finished products come back to you. That's far and away the best part of it. Not when you first give it someone but after they've used it for a while and it's broken in shows signs of use.
FLW: When you're working what's going through your mind?
JT: When I was first starting leatherworking it was definitely at first a more stressful process. You're like 'what am I doing?' 'Why is it so hard to cut leather,' 'This should be easier.' And then you get to a point where it's nice and easy. You can sit down and get to work; I like to listen to a podcast. There's nothing better.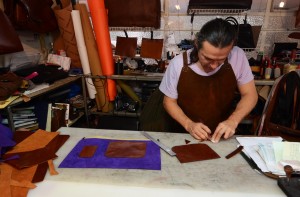 FLW: What have you found to be the most important thing that anyone selling leather goods should focus on?
JT: One of the things we've found is that when we were starting to do marketing, people would be asking us for slightly different things. Don't you have this or that. And I'm really glad that we just launched with bags and that we launched with a number of different designs with a clear aesthetic. So my recommendation is to know what you're doing and do it well. Get that down well and don't try to be everything to everyone from the beginning. You really have to find where that gap or niche in the market is and fill it.
The other thing I would say is figure out your suppliers. You don't want to be scrambling if and when you go through a phase of growth. All of a sudden your buckles aren't very good or your leather isn't what it once was- that can be a headache. You want to set everything up in advance, especially if you're doing the production yourself, because you'll never have enough time. So if you can set things in place in the beginning, you'll make your life less hell when growth does happen. So you want to take advantage of that time to set things up for growth.
FLW: Anything specific to the business of selling leather goods?
JT: One thing that was really good for me and my wife to read before we started reading this business was a Slate article by this guy who started up a bakery in NYC with his wife and everyone was like 'That's so awesome that you're starting up a bakery,' 'That's so great,' and basically his message was you're starting up a business and it doesn't matter what you're doing, you need to treat it like a business. There's nothing greater about starting up a bakery than starting up say a laundromat. It's about the money going in being greater than the money coming out. And that was good for us; to not romanticize it too much and to be realistic about what we were getting ourselves into.
FLW: So what are your future goals for the leatherworking or goals for the immediate future?
JT: So in the immediate future is to get some good sources for buckles. Work with some local artisans to make some hand crafted buckles and make that a strong selling point. Our buckles right now are great but there's nothing special about them and I think they should be at the same high quality and uniqueness as our bags [design].
We're also working on new tools and techniques and also trying out different materials. We're always refining our production process. We're also prepping to launch a line of wallets at some point in the new year so it's slow and steady growth. We're working on achieving mastery of what we do now and that will really set us up for the future.
Restrepo Leather currently features two lines of bags for men and women. They ship worldwide.